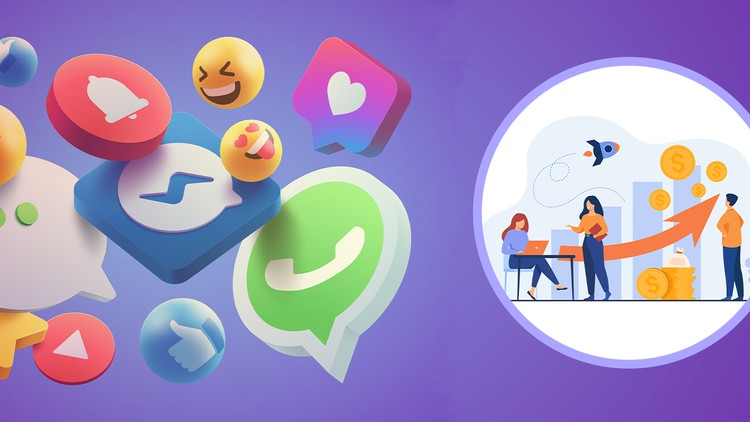 Want Knowledge on How to Have a Successful Social Media Run? We Got You Covered.
What you will learn
Define what social media marketing is all about
Teach how to use social media to develop a brand
How to implement social media strategies
Pros and cons of different social media platforms for marketing
Description
Social media marketing is one of the most efficient and effective ways to connect with your target audience and promote your business.
This course is for people who would like to learn and understand the basics and advanced techniques to running a successful social media marketing campaigns and building an online brand.
In this course, we are going to share very actionable forms of strategies for entrepreneurs, organizations and personal brands to build a social media platform and operate your business efficiently. You will learn from social media marketing expert, how to create a social media marketing strategy that will help you grow your business and build a loyal audience. You will learn how to use social media to reach your target audience, how to create content that promotes conversions, and how to measure your results.
The course covers topics such as audience research, content marketing, paid social media advertising, and social media engagement.
By the end of this course, you will have all the tools and knowledge you need to create an effective social media marketing strategy for your business.
The course will help make social media marketing simple for you and the key elements of social media marketing
Want Knowledge on How to Have a Successful Social Media Run?
We Got You Covered.
English
language
Content
Introduction
Introduction
What Is Social Media Marketing
Social Media – What is Social Media Marketing
Key Elements of social media
The Social of social media
How To Implement a Social Media Marketing Strategy
How to Implement Social Media Strategy Goals
Research
Audience
Using Social Media Marketing to Develop a Brand
Social Media – Module 3 – Using social media to Develop your Brand
Voice and Personality
The Importance of Analytics
Engagement
Inbuilt Tools
Third Party Analytics
Testing
Difference between Advertising and Marketing
Difference between Advertising and Marketing
Psychology of social media
Reach
Search Engine Optimization
Paid Content
Advantages And Disadvantages of Various Social Media Platforms
Advantages and Disadvantages of Various Social Media Platforms
Demographics
Profiles
The Social Media Platform
Twitter
Instagram
Facebook
Linkedin
Youtube
Pinterest
Snapchat
TikTok
Content Creation
Content Creation
Collaboration
Video Content
Content and analytics Demo
The Importance of Analytics
Social Media Metrics
Content Calendar
Module 9
Frequency
Patterns