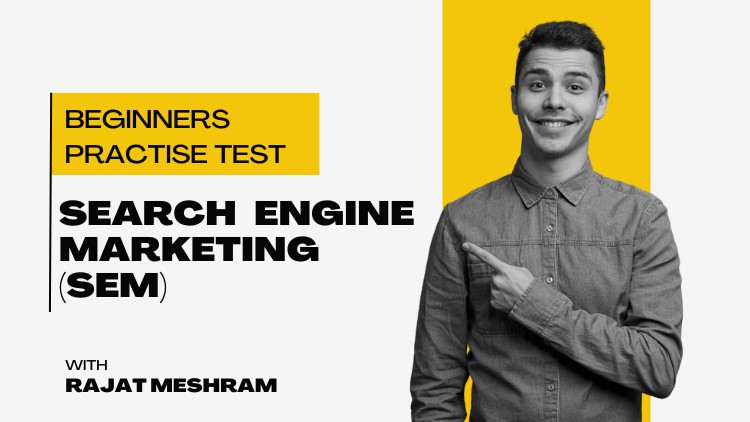 Master the Essentials of Search Engine Marketing (SEM) with Practical Practice Tests for Beginners
What you will learn
Master SEM basics with our course: keyword research, ad creation, and budget management for beginners.
Learn SEM essentials – ad placement, bid strategies, and ROI optimization in our beginner's course.
Start your SEM journey with confidence! Our course covers SEM fundamentals for beginners.
Get hands-on SEM experience in our course – practice tests, ad campaigns, and analytics insights.
Description
Are you interested in learning the fundamentals of Search Engine Marketing (SEM) and want to assess your knowledge through practice tests? This course is designed for beginners who are eager to dive into the world of SEM and gain practical insights into one of the most powerful digital marketing strategies.
Search Engine Marketing (SEM) is a dynamic field that focuses on promoting websites by increasing their visibility in search engine results pages (SERPs) through paid advertising. Whether you are a business owner, a digital marketing enthusiast, or someone looking to enhance your career prospects, understanding SEM is essential in today's digital landscape.
';
}});
This course offers a comprehensive series of practice tests designed to help you grasp the core concepts of SEM and evaluate your proficiency in this area. The course covers the following key topics:
Introduction to SEM: Explore the basics of SEM, its importance, and its role in the digital marketing ecosystem.
Keyword Research: Learn how to identify relevant keywords and phrases to target in your SEM campaigns.
Ad Campaign Creation: Understand the process of setting up effective SEM campaigns on popular platforms like Google Ads and Bing Ads.
Ad Copywriting: Discover the art of crafting compelling ad copy that captures the attention of your target audience.
Bid Management: Gain insights into bidding strategies to optimize your SEM campaigns for maximum ROI.
Ad Extensions: Learn how to use ad extensions to enhance the visibility and appeal of your ads.
Quality Score: Understand the concept of Quality Score and how it impacts your ad rankings and costs.
Analytics and Reporting: Explore tools and techniques for tracking the performance of your SEM campaigns and making data-driven decisions.
Throughout the course, you'll have access to a series of practice tests that simulate real-world SEM scenarios. These tests will help you assess your knowledge, identify areas for improvement, and build confidence in your SEM skills. By the end of the course, you will be well-prepared to embark on your SEM journey with a solid foundation.
Whether you're looking to excel in your career, promote your business online, or simply expand your digital marketing knowledge, this Search Engine Marketing (SEM) For Beginners Practice Test course is your gateway to success. Enroll now and take the first step toward mastering the art of SEM.