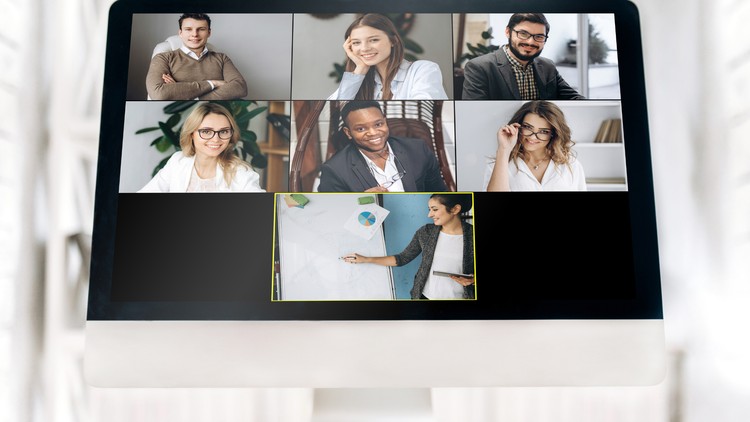 Professional Speakers Must Now Learn How to Deliver Keynotes Virtually if You Want Your Business to Survive Pandemics
What you will learn
Deliver a virtual keynote speech
Present via Skype and YouTube
Speak with confidence in front of a video camera
Present to an audience without seeing the audience
Description
***Updated to reflect changing market conditions based on Coronavirus adaptations.
Presentation Skills now need to be virtual. Imagine being able to give a keynote speech to hundreds or even thousands of key players in your industry, without having to leave your home or office. You can now deliver a keynote speech, life, through Skype and other online services to conventions and audiences in other cities and continents.
In this How to Give a Virtual Keynote Speech Presentation Skills course you will learn the following:
* How to prepare for the technical aspects of delivering a virtual speech
* How to speak to an audience you can't see
* How to look comfortable, confident, and relaxed when speaking virtually
* How to use engage your audience and host
This Presentation Skills course is delivered primarily through spoken lectures. Because the skill you are learning is speaking related, it only makes sense that you learn through speaking.
The skill you will learn in this class is not primarily theoretical or academic. It is a skill that requires physical habits. That is why you will be asked to take part in numerous exercises where you record yourself speaking on video, and then watching yourself. Learning presentation skills is like learning how to ride a bicycle. You simply have to do it numerous times and work past the wobbling and falling off parts until you get it right.
This Presentation Skills course contains numerous video lectures plus several bonus books for your training library.
TJ Walker has been coaching and training people on their Presentation Skills for 30 years. Now, through the power of Udemy's online platform, he is able to give you the same high quality training that he gives in person to CEOs, Fortune 500 executives, and Presidents of countries. Only you can now receive the training at a tiny fraction of the normal fee for in-person training.
How long this Presentation Skills course takes is up to you. The longest part of the course involves you speaking on video, critiquing yourself, and doing it over until you like it. But if you get to the point where you love how you look and sound when you present it will be well worth the time spent. And having this skill will save you time for all future presentations in your life.
You can begin improving your virtual Presentation Skills right now. You may have an opportunity to speak out virtually as soon as tomorrow, so why waste another day worried that your presentation skills are not up to high standards.
"5 Stars! Practical! Practical! Practical! I learned so much from this FREE course. I am not a newbie speaker and I still got so much out of it. Did I mention that it was all FREE? Honestly, I do not have enough words to express my sincere appreciation to Mr. Walker. As we say, in my Country, when you are given something of great value at no cost, "This is too much!" Thank you for this. Well done." Udemy student Bili A. Odum
Please enroll today.
This Public Speaking course is ideal for anyone searching for more info on the following: public speaking – presentation – speaking – public speaking for beginners – kids – first steps into public speaking – debate – first step into public speaking – speech. Plus, this course will be a great addition to anyone trying to build out their knowledge in the following areas: presentation skills – communication skills – storytelling.
English
language
Content
You Can Give Effective Keynote Speeches Remotely
Remote Speaking – Pro Speaking Skills in The Coronavirus Era Promo Video
Don't Panic! Here Are the Most Essential Things You Need to do to Give Speeches
Coronavirus Update to this Course
You Can Give Keynote Speeches Virtually
Time to Revise The Business Model of the Professional Speaker and Trainer
Technology
Live or Recorded
Tech Requirements
Tech at Conference
Assignment: Testing Your Communication To Make Sure It Works.
Exciting New Update to this Course
How to Deliver
Performance Tips
Content
Your Speaking Goals
Stories
More Ways to Make Money as a Professional Speaker
Practice
1st Video Rehearsal
2nd Video Rehearsal
Bonus Update – You Should Get on the TikTok App Now
Conclusion
Time to Give TJ a Piece of Your Mind
Bonus Reading
Secret to Foolproof Presentations
Public Speaking Success
Demo Lecture
Final Bonus Lecture: Huge Discounts on Other TJ Communications Courses
Your Speaking Goals