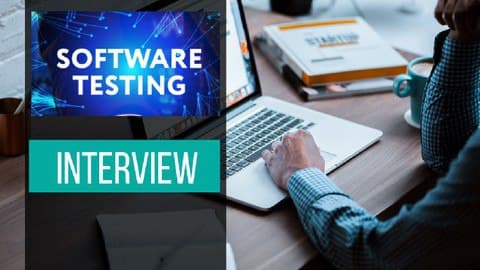 Real time Interview course on all automation & Manual concept questions with detailed answers – QA Jobs (Hindi)
What you will learn
☑ You will get Real Time Interview questions which was asked in top MNC companies
☑ By end of this course, one should be able to attend any QA Automation Interviews with full confidence
☑ You will get all the resources in pdf format.
☑ You will be able to quickly revise all Your Java Concepts with Awesome Examples
☑ Students will be able to get their dream QA job
☑ Course is designed in Hindi so everyone could understand better.
☑ Detailed Discussion on Manual + Automation Interview Questions
☑ Student will be confident to answer most of the technical questions
☑ Students will have better understanding of why certain questions are asked and how to answer them
☑ After this course, you will crack any software testing interview.
☑ Explaining each question in a detailed manner
Description
How about Quickly Revising all the Important Software testing Concepts in just a few hours before an interview?
This course focuses on revising most Real-time interview questions around Testing. An interview is all about expressing your answers in a precise and proper way. You can have tons of knowledge, you must have done tons of coding but cracking an interview is a different ball game.
This course is a revision course where I have focused on what kind of questions are asked and how to answer them in an elaborate way. Please note this course does not teach software testing.
So, Welcome to the Real time Automation+Manual interview Questions and Answers where you are going to dominate the Software testing job interview. Take the course, learn the material and go into a technical interview with the confidence that you are prepared!
Get an edge over other candidates that did not take the time to learn technical interview skills.
Become one of my dozens of students that successfully took the course and secured a job.
This course has been expertly crafted to make sure that you rapidly improve your Testing interview skills, Turbocharge your productivity and boost your career with no time wasting and no useless stuff.
Preparing for a Software testing Interview is tricky. You would need to get a good understanding of all Automation features and revise concepts you used in your preparation. This course helps you Prepare for QA Interview with all the resources covering 100+ Realtime Interview Questions and Answers on a varied range of topics listed below.
Automation testing
Manual Testing
One Liner questions
Java real-time questions
Concept in Hindi
Testing Process in Real-time projects
Selenium Web Automation
Automation Framework Designs
Testing Standards with TestNG and Cucumber
API Testing (Manual + Automation) Interview Questions
Core Java Webdriver related topics
Programming logical questions
Java OOPS Miscellaneous Concepts
Non Functional Testing Topics & Many more !!!!!!!!!
Wish you all the Best.
Start Learning Now. Hit the Enroll Button!
English
Language
Content
Real time Automation testing Interview Questions
Interview Questions – Part 1
Interview Questions – Part 2
Interview Questions – Part 3
Interview Questions – Part 4
Interview Questions – Part 5
Interview Questions – Part 6
Interview Questions – Part 7
Interview Questions – Part 8
Java Strig Post-Mortem
String Part-1