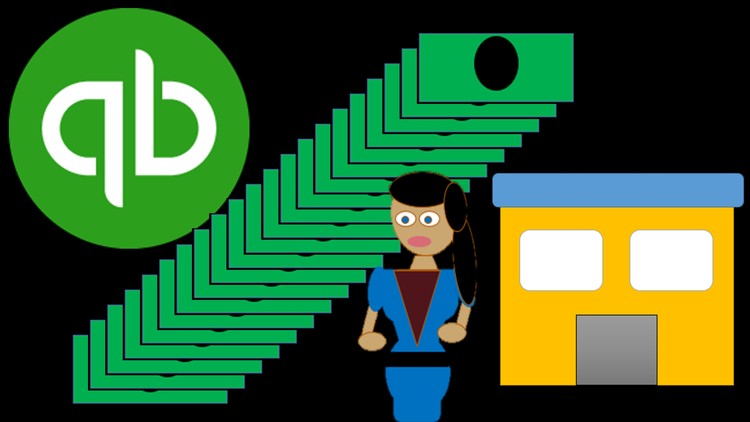 What you will learn
How to outline a simple bookkeeping system for a small business using QuickBooks Pro Desktop 2019 or prior years
How to network between the bookkeeper, business owner, and year-end tax accounting firm, CPA firm or tax preparer
How to set up a simple Bookkeeping company file in QuickBooks Desktop Pro 2019 or prior year and store it on a computer
How to use an easy method to enter financial data into QuickBooks Desktop Pro 2019 or prior year from the bank statement
How to identify common problems when entering financial data and strategies for overcoming them
How to reconcile the bank accounts in QuickBooks Desktop Pro 2019 or prior year
How to analyses payroll options including the options to work with a third-party payroll company or to enter payroll into QuickBooks
The basics of entering payroll into QuickBooks Pro Desktop 2019 or prior year
How to enter equipment purchases into QuickBooks Pro Desktop 2019 or prior year
How to enter loan payments into QuickBooks Pro Desktop 2019 or prior year
How to enter insurance payments into QuickBooks Desktop Pro 2019 or prior year
How to enter credit card charges into QuickBooks Desktop Pro 2019 or prior year
How to format month-end and year-end reports Desktop Pro 2019 or prior year
How to enter adjusting entries into QuickBooks Pro Desktop 2019 or prior year and work with accounting firms, CPA firms, or tax preparer to help with them
Description
QuickBooks pro desktop 2019 bookkeeping business designed for small business clients or small businesses who want a simple cash basis format for entering data. 
This course is designed for bookkeepers and is also useful for small business owners who want a simple system for entering financial data into QuickBooks for financial planning and year-end tax preparation.
The bookkeeping system we discuss will also describe the relationship between the bookkeeper, the business, and the year-end tax and financial statement preparers.
We will outline a cash basis bookkeeping system using QuickBooks, a system that will enter most transactions directly into the check register.
The course will discuss the responsibilities of a bookkeeper and the responsibilities of the business when a bookkeeping engagement in entered into. 
We will work through a sample bookkeeping project in QuickBooks including the setting up of a new QuickBooks company file.
The course will practice entering data into the QuickBooks register directly from a bank statement. We will provide practice bank statements to use with the project as well as step by step instructional videos.
As we enter data directly into the check register from the bank statement, we will compare and contrast the cash basis system we are using to a full accounting cycle system. We will also review the financial statements periodically to see how QuickBooks is using the data to make reports.
After entering data into the QuickBooks check register from the bank statement, we will perform bank reconciliations. As we perform bank reconciliations, we will discuss what a bank reconciliation is and the benefits a bank reconciliation provides.
The course will then discuss options for entering specific accounting data into QuickBooks including payroll, equipment, loan payments, insurance, credit card payments, and invoices. We will provide practice QuickBooks files for different options related to the items listed above and explore the pros and cons of each option. The bookkeeping options will help tailor our system to our specific bookkeeping needs.
As we enter accounting data into the system we will discuss common questions we will have when entering the first few months of data and how to write down these questions, move forward with data input, and organize the financial data so that we can quickly go back to it once our client questions are answered.
This course will discuss, print, and export month end and year end reports, reports a bookkeeper may provide to clients monthly and reports the business will need at year-end for tax preparation.
We will discuss year-end adjusting entries. The bookkeeping system we propose will depend on an outside accounting firm, tax preparer, or CPA firm to help with the year-end adjusting entries. As bookkeepers we want to be aware of the adjusting entry process so we can work with any year-end accounting firm, tax preparer, or CPA firm. We will enter common adjusting entries into an adjusting entry Excel worksheet and into Quickbooks.
The course will then compare and contrast our different bookkeeping methods and show how those different bookkeeping decisions reconcile to the same numbers after the adjusting entry process.
Finally, we will discuss whether or not to enter the year-end adjusting entries into our QuickBooks bookkeeping system and different options to do so.
In addition to the instructional videos, this course will include downloadable  
•    QuickBooks Backup files
•    Excel practice files
•    Downloadable PDF Files  
The QuickBooks backup files are a great tool that allows us to jump ahead in the material or to rework material if we choose.
Excel practice files will be preformatted and will generally have at least two tabs, one tab with the completed work and a second tab with a preformatted worksheet we can fill in as we watch the instructional videos.   
Who will we be learning from?  
You will be learning from somebody who has technical experience in accounting concepts and in accounting software like QuickBooks, as well as experience teaching and putting together curriculum.  
You will be learning from somebody who is a:  
•    CPA – Certified Public Accountant  
•    CGMA – Chartered Global Management Accountant  
•    Master of Science in Taxation  
•    CPS – Certifies Post-Secondary Instructor  
•    Curriculum Development Export  
As a practicing CPA the instructor has worked with many technical accounting issues and helped work through them and discuss them with clients of all levels.  
As a CPA and professor, the instructor has taught many accounting classes and worked with many students in the fields of accounting, business, and business applications.  
The instructor also has a lot of experience designing courses and learning how students learn best and how to help students achieve their objectives. Experience designing technical courses has also benefit in being able to design a course in a logical fashion and deal with problems related to technical topics and the use of software like QuickBooks Desktop.  
English
language
Content
Introduction
QuickBooks Pro Bookkeeping The Easy Way For Small Businesses Outline
Bookkeeping Project Outline and Plan Using QuickBooks Pro Desktop 2019
2 Bookkeeping Project Outline and Plan
Data Files and QuickBooks Backup Files
PDF – 20 Outline Of Standard Client
20 Outline Of Standard Client
PDF – 22 Outline Of Service We Provide
22 Outline Of Service We Provide
PDF – 23 Network With Other Professionals
23 Network With Other Professionals
PDF – 24 Bank Feeds
24 Bank Feeds Option
Accounting Comic Break
Engagement Letter and Questionnaire
3 Engagement Letter
PDF – 26 Engagement Letter
26 Engagement Letter
PDF – 28 New Client Engagement Questionnaire
28 New Client Engagement Questionnaire
Accounting Comic Break
Create New Company File & QuickBooks File Using QuickBooks Pro Desktop 2019
4 Create New Company File & QuickBooks File
PDF – 30 Outline Sample Engagement
30 Outline Sample Engagement
60 New Company File
70 New Company File In QuickBooks
Accounting Comic Break
Enter Data From Bank Statement for Month One Into QuickBooks Desktop Pro 2019
5 Enter Data From Bank Statement for Month One
80 Bank Statement Overview
82 Enter Deposits Plan
85 Enter Deposits From Bank Statement First Month
87 Entering Cash Outflows Strategy
88 Entering Cash Outflows Strategy Part 1
88 Entering Cash Outflows Part 2
90 Review Reports After Data Entry For First Month
Accounting Comic Break
Bank Reconciliation For Month One In QuickBooks Desktop Pro 2019
6 Bank Reconciliation For Month One
92 Bank Reconciliation Overview
94 Bank Reconciliation First Month
Accounting Comic Break
Enter Data From Bank Statement for Month Two In QuickBooks Pro Desktop 2019
7 Enter Data From Bank Statement for Month Two
100 Enter Deposits Second Month Setup Process
102 Enter Deposits From Bank Statement Second Month
104 Enter Cash Outflows From Bank Statement Second Month Part 1
104 Enter Cash Outflows From Bank Statement Second Month Part 2
108 Review Reports After Entering Data From Bank Statement For Second Month
Accounting Comic Break
Bank Reconciliation For Month Two In QuickBooks Desktop Pro 2019
8 Bank Reconciliation For Month Two
110 Bank Reconciliation First Second
Accounting Comic Break
Outline Bookkeeping Options and Questions
9 Outline Bookkeeping Options and Questions
117 Adjust Open Items and Common Problems
115 Back Up QuickBooks File Copy QuickBooks File
116 Restore Backup File
Accounting Comic Break
Payroll Options and Entry Using QuickBooks Pro Desktop 2019
10 Payroll Options and Entry
PDF – 120 Payroll Options
120 Payroll Options
122 Categorize Payroll Payments
123 Turn On Manual Payroll
125 Add Employees
127 Process Payroll
Accounting Comic Break
Equipment and Financing Options and Entry Using QuickBooks Desktop Pro 2019
11 Equipment and Financing Options and Entry
PDF – 130 Equipment Financed Options
130 Equipment Financed Options
132 Equipment Financed Record Amount Paid
136 Equipment Financed Record Loan
Accounting Comic Break
Loan Payments Options and Entry Using QuickBooks Pro Desktop 2019
12 Loan Payments Options and Entry
PDF – 140 Loan Payment Options
140 Loan Payment Options
142 Enter Loan Balance Record Payments as Reduction To Loan Balance
143 Loan Amortization Interest vs Principal
146 Enter Loan Balance & Break Out Interest & Principal Portion Of Loan Paymen
Accounting Comic Break
Insurance Payments Options and Entry Using QuickBooks Desktop Pro 2019
13 Insurance Payments Options and Entry
PDF – 150 Insurance Options
150 Insurance Options
152 Enter All Insurance Payments As Insurance Expense & Let Accountant Adjust I
154 Enter All Insurance Payments As Prepaid Insurance & Let Accountant Make Ye
Accounting Comic Break
Credit Card Options and Entry Using QuickBooks Pro Desktop 2019
14 Credit Card Options and Entry
PDF – 160 Credit Card Options
160 Credit Card Options
162 Enter Credit Card Payments To Credit Card Expense Account & Break Out Cate
164 Enter Credit Card Payments As They Clear Bank & Assign Expense Accounts Ba
166 Enter Credit Card Liability & Apply Payments To The Liability Account
Accounting Comic Break
Invoice and Accounts Receivable Options and Entry Using QuickBooks Desktop 2019
15 Invoice and Accounts Receivable Options and Entry
PDF – 170 Invoicing and AR Options
170 Invoice & Accounts Receivable Options
172 Invoice Outside QuickBooks & Track Payments Manually Or In Excel
176 Enter Invoices Into The System & Track Accounts Receivable
Accounting Comic Break
Adjust Remaining Outstanding Items / Data Entry Questions Using QuickBooks Pro
16 Adjust Remaining Outstanding Items Data Entry Questions
PDF – 180 Adjust Open Items
181 Adjust Open Items Simple Method
182 Adjust Open Items More Complex File
183 Net Income Reconciliation Between Method
Accounting Comic Break
Creating & Formatting Month End Reports Using QuickBooks Desktop Pro 2019
17 Creating & Formatting Month End Reports
PDF – 185 Month End Documents
185 Month End Documentation
187 Create Customer Backup File
187 Formatting Month End Documents PDF & Excel
188 Formatting, Presenting, & Delivering Reports to Clients
Accounting Comic Break
Creating & Formatting Year End Reports Using QuickBooks Pro Desktop 2019
18 Creating & Formatting Year End Reports
PDF – 190 Year End Documents
190 Year End Documentations List
192 Year End Documentations Formation
Accounting Comic Break
Describing and Entering Adjusting Entries Using QuickBooks Pro Desktop 2019
19 Describing and Entering Adjusting Entries
PDF – 210 Adjusting Entry Options
210 Adjusting Entries Options
211 Adjusting Entries Worksheet
212 Payroll Adjusting Entries Simple Method
213 Payroll Adjusting Entries More Complex Method Q2
214 Equipment Adjusting Entries Simple Method
215 Equipment Adjusting Entries More Complex Method
217 Loan Payment Adjusting Entries Simple Method Q1
219 Insurance Adjusting Entries Simple Method Q1
220 Insurance Adjusting Entries More Complex Method Q3
221 Credit Card Adjusting Entries Simple Method Q1
223 Compare Completed Trial Balance Under Both Methods
Accounting Comic Break
Options for Recording Adjusting Entries in QuickBooks Pro Desktop 2019
20 Options for Recording Adjusting Entries in QuickBooks
PDF – 240 Adjusting Entry Options
240 Options For Entering Adjusting Entries To QuickBooks
Accounting Comic Break