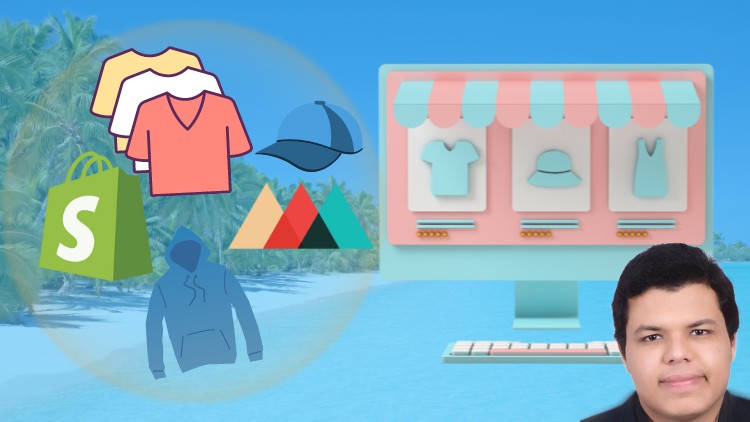 Comprehensive Course to Build an Automated Print on Demand E-Commerce Store in 2022 – Using Shopify and Printful
What you will learn
Use the 14 Days Free Trial to Create a Print on Demand Online Store
Full Shopify Store Creation tutorial
Learn how to Automate the Order Fullfillment Process using Printful
Make your Design look Great using a Free Shopify Theme and Apps
Create an On-Budget Online Store from Scratch
Upgrade your Website Design Skills to Create
Description
Comprehensive Course to Build an Automated Print-on-Demand E-Commerce Store in 2022 – Using Shopify and Printful.
You will learn how to build a fully automated e-commerce store using Shopify and printful.
After setting up the website, you must take care of product design, marketing, and customer service.
Print-on-demand is an excellent opportunity to create an automated passive income business in 2022. With Shopify, that process is made easy.
This course will help you create a unique Shopify apparel shop effortlessly, so you don't have to worry about coding!
In the past, creating a website required coding skills, but with the help of Shopify, that is out the window.
You don't need to learn to code or go through hundreds of hours to learn how to create a store.
In this course, you will also acquire the skills you can sell as a freelancer on Fiverr, Upwork, Freelancer, etc…
The opportunities are endless, and the sky is the limit.
This course makes website creation so easy; almost anyone can use the lectures in this course to create a T-Shirt eCommerce store in a matter of hours.
Unlike many online gurus who teach what they don't practice, I, on the other hand, only teach what I do daily.
Entrepreneurship is my lifestyle, and I do what I teach every day.
I have also gone through a lot of trial and error, so you won't have to.
When I started my online journey, I struggled a lot to generate income because I needed help to focus on something and take action.
You should avoid procrastination and take small steps toward your goal.
Everyone started small at one point, and you are no different, which is excellent!
With the power of Hunger, Focus, and consistency. We all can achieve great results.
As the great Rober kiyosaki said :
Don't listen to fake teachers; do your due diligence before taking information from someone.
2022 is the perfect time to start your online business, and there has been no better time. We live in the information and technology age, making it easier to take the first step.
The first step is everything; a thousand-mile journey starts with a small step.
The most important thing is to keep making those steps in the right direction and to divert to nothing else.
Enough with losing your attention and focus on SHIHY Objects!
All it takes is to find one business that you are decent at and to become the best at it.
You can be the best at some things, even if that's what so many people would have you believe.
I have failed countless times, and I know how frustrating it can be to build a profitable business.
I aim to help you optimize your failures and assist you with Blueprint's power.
Start your Online store, and build your brand.
You can certainly not control the future, but you can decide what to do in the present moment.
Think only about what you can do now, and work hard.
And, what you can do right now is to create a Print on Demand store using Shopify and printful.
Start there!
Passive income gen z
English
language
Content
Introduction to SHopify Print on Demand
Introduction
The PRINT ON DEMAND Business model Explained!
How Print on Demand Works
The types of Products that you can sell
POD types of articles
Different methods to get good designs Online
How to get good designs Online!
Succesful PRINT ON DEMAND Stores
What succesful POD Stores look like
Why PRINTUL?
Why printful and not other options!
What is the Printful commission?
Custom Orders are a great USP!
Create a Store on Etsy and Amazon!
Create a Store on Etsy and Amazon
Tools to do Keyword Research and Spy on the competition
Tools to spy on the competition and find Hot Niches!
Trust is the most important thing in e-commerce
Trust is the most important thing in e-commerce
The product description is crucial
The product description is important
Niche Down – Avoid Red Oceans
Be the big find in a Small Pond!
Succesful Unique Selling Point (USP)
Legendary USP's for inspiration!
POD Store Creation with SHOPIFY & PRINTFUL
How to find the good domain
How to verify the domain history!
Let's create our Website LOGO using CANVA
Create the Shopify account (14 Days FREE Trial)
How to modify the store's currency
Let's connect printful with our Shopify Store
Let's work on the Branding Aspect!
Add the first T-Shirt – Part 1
Add the first T-Shirt – Part 2
Let's Add the second product
How to find Bundle designs in a Marketplace
How to create your Own Design with CANVA
Let's add our First Hoodie on the Store
Let's Create our first Hat
Let's add product collections
Let's install the store theme
Let's add the Logo and The Hero Image
Let's add Featured Products
Let's add a video for our Store
Let's edit the last section of the store
Let's add a Domain to our Store
Let's edit the Footer and Header
Let's add social media icons
Let's optimize the website design
Settings and taxes
Let's add payment gateways
Let's fine tune our Store
How to create a DISCOUNT Coupon
Let's edit printful settings
Let's enable currency conversion on the Store
Let's add the whatssap chat icon
Let's disable the password to allow access to the store
Website experience TEST