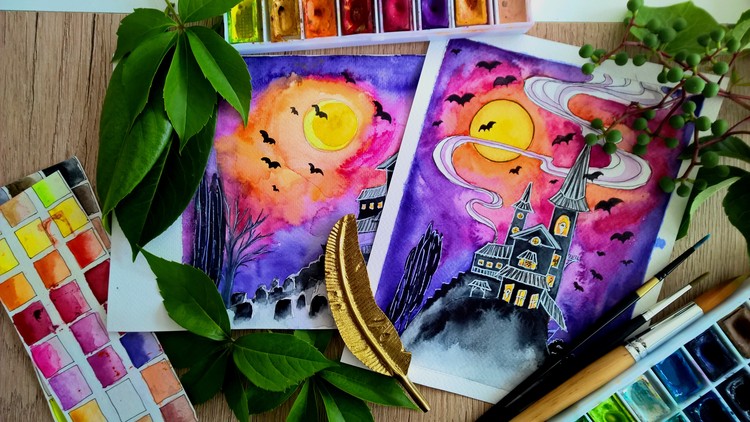 Beginner friendly halloween watercolor class with line art template. Learn to paint a haunted house in less than a hour!
What you will learn
How to Paint a Haunted House Within an Hour
Watercolor Painting Techniques
How to Sketch the Line Art of the Haunted House
How to create a spooky atmosphere for your paintings
Description
Do you want to learn how to paint a haunted house easily, but you don't have much experience with watercolors?
Hi, I'm Eliza, the Watercolor Witch and I now serve more than 4000 watercolor enthusiastic students all around the globe.
I'm focusing on easy-to-paint watercolor projects, so if you take this course I'll teach you how to paint this fun haunted house within an hour.
In the course I'm going to talk about:
How to trace the line art to the watercolor paper
-How to sketch a successful underdrawing
What it takes to make it look like an old building
How to apply the colors to the painting
While in other courses you need to sketch the project yourself, in this beginner-friendly class I included a downloadable line art template, so you can spare yourself from the dissappointment of a messed up line drawing.
There is nothing to risk, here all you need to do is enjoy the painting process!
So it's time to take action!
Grab your brushes and start painting now!
See you in the course!
English
language
Content
Introduction
Introduction
Introduce yourselves!
Before You Start
Preparing for Painting
Tools
Drawing the Line Art
Tracing the Line Art
Inking the Line Art
Applying the Masking Tape
Let's Start Painting!
Background colors
Window Lights
Roof
Silhouette of the House
Moon
Smoke
Bats and Ghosts
Finishing up – Highlights
Congratulations for finishing the course!
Thank you for watching this course!
Bonus Lecture
Bonus Lecture