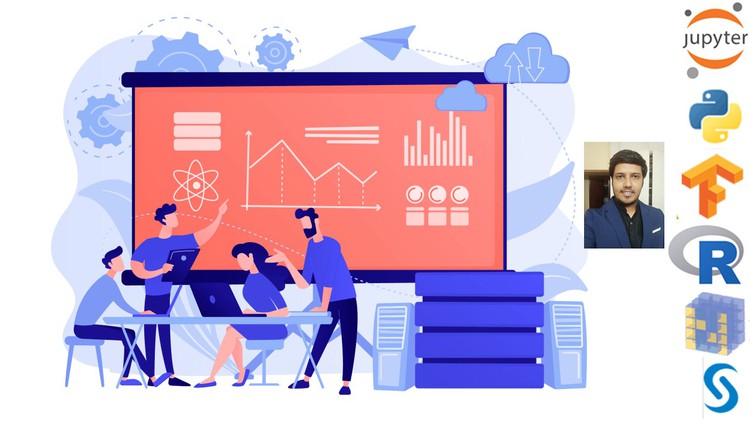 Get your dream role as a Data Scientist by following this go-to guide that covers all essential end to end topics.
What you will learn
Essential Steps to become a Data Scientist from Scratch
Best Tips to Learn Data Science – From Courses, University Degree, Bootcamps etc
The essential Data Science Skillset as per current Job Market
How to build your Portfolio to be market ready
How to make an Impressive Resume – Dos and Don'ts in Headlines, Experience, Education, Skills etc
Speeding up your Data Science Job Search
Preparing for the interview
Getting ready for the big day – Pro tips to ace the Data Scientist interview
Accepting the Offer, Facing the rejection
Complete End to End Data Science Career path
Description
It's the job the Harvard Business Review has called "the sexiest job of the 21st century". Is it modeling? Head coach of Real Madrid? Nope. It's Data Science.
Over the past decade, as the tech world has seen advances in big data, machine learning, cloud computing, and artificial intelligence, opportunities for data scientists have blossomed. In addition, their compensation has blossomed as companies increasingly demand data scientists.
So, how do you become a data scientist, and how do you get hired? Here in this course, we break down the basics for you.
Top Reasons why you should become a Data Scientist :

Why data science? It is simple. Making sense of data will reduce the horrors of uncertainty for organizations. As organizations trying to meddle with petabytes of data, a data scientist's role is to help them utilize this opportunity to find insights from this data pool.

Data scientists are in constant demand because it is a data-heavy world!

Be a part of the world's digital transformation.

The demand for Data Science professionals is on the rise. This is one of the most sought-after profession currently.

There are multiple opportunities across the Globe for everyone with this skill.

Great career trajectory with data science – you will have rewarding career growth in this field.

As a Data scientist, you can expect to take away a great salary package. Usual data scientists are paid great salaries, sometimes much above the normal market standards due to the critical roles and responsibilities.

Competition is less, but demand is not.
Top Reasons why you should choose this Course :

This course is designed keeping in mind the students from all backgrounds – hence we cover everything from basics, and gradually progress towards more important topics around Job Search, Resume writing, Interview preparation etc.

This course can be completed over a Weekend.

This course covers end to end road map to become a Data Scientist.

Useful resources, and website links are shared to prepare for your Data Science journey.

All Doubts will be answered.
Most Importantly, Guidance is offered in detail regarding the smallest of things that matters ! You will not only learn the process to become a Data Scientist, but important job search principles – that will help you landing in your dream role.
A Verifiable Certificate of Completion is presented to all students who undertake this course.
English
language
Content
Introduction
Introduction
Everything about Data Scientist
Who is a Data Scientist?
What does a Data Scientist do?
How much does Data Scientist make?
Data Science Job Market
Skillset needed to become a Data Scientist
Data Scientists Career Prospects
Roles similar to Data Scientist
Target Industries for Data Scientists
Learning Data Science
Taking an Online Course
Taking a University Degree
Data Science Bootcamps
Data Science Self Study
Best Data Science Blogs
Best Data Science Books
Best Data Science Courses – Free & Paid
Data Science Skillset Walkthrough
Essential Basic Concepts
Advanced Concepts
Technical Skills
Soft Skills
Build your Portfolio
Improve your Github presence
Create an Impactful LinkedIn profile
Have a Portfolio Website / Blog
Certifications
Join Kaggle Competitions
Contribute to Open Source Projects
Power up your Resume
Headline
Experience
Education
Skills
Certifications
Extras
More Tips for an effective Data Science Resume
Searching Data Science Job
Portals for Data Science Jobs
Choose the right Career Path
Targeted Resume Approach
Try Multiple keywords
Use LinkedIn effectively
Send Emails to prospective Employers
Use Social Media
Networking and Mentorship
Mistakes to Avoid
Preparing for the Interview
Update your Resume
Research the Organization
Prepare Interview Questions
Prepare your Demo
The Big Day of Interview
Mental Preparation
Physical Fitness
During the Interview
Mistakes to Avoid
After the Interview
Next Steps after the Interview
Accepting the Offer
Facing Interview Rejection
Continue Learning
Words of Caution
Words of Advice
Believe in Yourself
Congratulations & All the Best !
Congratulations on Completing the Course