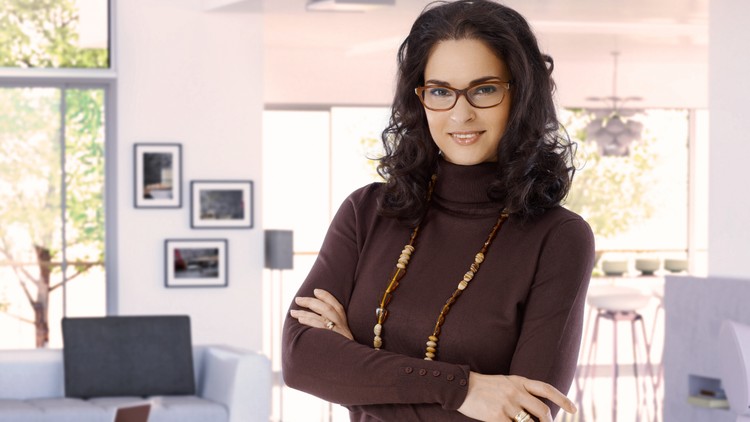 What you will learn
Minimalist Lifestyle
Decluttering
Interior Design
Organization
Home Organization
Office Organization
Electronic Organization
Life Organization
How To Prioritize Possessions
How to Declutter Your Bedroom, Kitchen, Attic, Basement, Home, Car, Yard and Office
Principles of Minimalism
Description
Minimalist Lifestyle – Complete Course – Decluttering Life
Learn Minimalism for your home, office and life. Minimalist interior design for all facets of your life and career
You can live a healthy, calm, and relaxing minimalist lifestyle. Imagine everything in your home is clean, beautiful, and devoid of clutter. Your possessions are beautiful. Your life is filled with purpose because you are no longer wasting time managing all of your stuff.
The minimalist lifestyle is attractive to many, but most people can't figure out the first few steps to head in this direction. It can seem overwhelming. Personal development expert TJ Walker is an expert guide to help you through this process of decluttering your life so that you can maximize the possessions and people and experiences and content that will give you the most meaningful lifestyle.
Getting more out of life; is the ultimate goal of the minimalist lifestyle.
When you surround yourself in your home just with the essentials that bring you joy, Then you will experience the pleasure of the minimalist lifestyle.
Many people claim to want a minimalist lifestyle, but we're living in a consumerist culture, it's easy to get sucked into the concept of more, more, more. Between Amazon one click and Groupon discounts and other always-on Internet stores, it's never been easier for people to fill their homes and lives with clutter, stuff, and, well, junk.
It's time to make tough decisions and to get rid of clutter destroying the beauty and sense of calm in your life. Today is the day to begin your journey toward a happy minimalist lifestyle, one that you can sustain forever.
Enroll in this minimalist lifestyle complete course today.
Here is what Udemy students say about this course:
"The presentation is clear and to the point and really explains how to declutter different areas of one's life, not just inanimate objects on the selves, but how to apply the minimalist concept to reexamine what you should really change and declutter." Lila Lila
"Excellent course, full of valuable information about the minimalist lifestyle. It really is a complete course as there are even sections about how to declutter your body – didn't expect that but it was a nice surprise :)" H D
This Minimalist Lifestyle course is ideal for anyone searching for more info on the following: interior design – interior design course – minimalism – minimalist – minimalist lifestyle – home interior design – minimalist interior design – interior – interior designing. Plus, this course will be a great addition to anyone trying to build out their knowledge in the following areas: decluttering – interior design – organization.
English
language
Content
You Can Embrace the Minimalist Lifestyle Today!
Minimalist Lifestyle – Complete Course – Decluttering Life Promo Video
Quick Win! Take This One step Now Down the Path Toward a Minimalist Lifestyle
The Real Reasons to Embrace a Minimalist Lifestyle
The Minimalist Tool: Question the Value of Everything to Your Life
How Asking the Right Questions Changes Everything In Your Life, For The Better
Assignment – List the 10 Things In Life You Enjoy the Most
Minimalism Is Really About Maximizing Your Life In Every Sphere
The Key to the Minimalist Lifestyle – Decluttering Your Life
Live a Clutter-Free Life!
Another Quick Win – Conquer One Small Area To Declutter Now!
This Course Will Take You Much Deeper than the Clutter in Your Home
Marie Kondo Is Great! This Is How We Add to Her Insights
Make Sure Your Stuff Is Here To Serve You, and Not the Other Way Around
It's Not Always about Being a Minimalist, It's About Maximizing Your Life
Living a Decluttered Life Can Be as Easy As Talking a Selfie
2 Mega Concepts: 1. Throw Away Stuff 2. Stop Buying Stuff You Don't Need
Find Your WHY Motivating You to Declutter
A Better Deal than Self-Storage…Pouring Your Money Down the Drain
Make Sure You Are Not a Hoarder
Throw It Away If You can Replace it for X$ or Less
Turn Your Default Decision Making Process Into a Decluttering Machine
Sell Your Stuff To Other People, and Here Is How To Do It
Free is Never Free. Say NO to FREE
You Must Schedule Time On Your Calendar for Decluttering and Organizing
Decluttering This Course for You Now
A Stronger Framework for Decluttering Your World
The Overabundance of Stuff is Crowding Out Thought
Easiest solution don't buy junk in the First Place
Throw Stuff Away To Clear Your thoughts
Get Ready for Your SelfieSpeak Audio
You Control Your Possessions
Decluttering Your Home, Office and Life starts with Decluttering Your Brain
Dealing With the Source Of Disorganization in Your Brain
The Easiest Way to Rewire Your Brain
Passive Brainwashing for You
Don't Over-Complicate this Make the Simplest Audio Production Ever
No Problem If You Hate Technology
Simple Solutions to Common Problems When Making Your Audios
Nobody Likes the Sound of their Own Voice
Improving Every Single SelfieSpeak Audio
Time to Make Your Own Decluttering SelfieSpeak Program (SSP)
Home Improvement – Declutter Your Home Starting With Your Bedroom
You Can Have a clutter-Free Bedroom
Make Your Own Darn Bed
Keeping Clothes You Love
Shoes are Great, but Not The Ones You Never Wear
The Digital Detox for Your Bedroom
Get Rid Of Other Stuff That Doesn't Belong In Your Bedroom
Declutter Your Kitchen
Imagine the Beauty of a Clean, Clutter-Free Kitchen
Journey to the Back of Your Refrigerator
When, Exactly, Is the Last time You Used That Food Processor?
Making Sure You Are Eating 21st Century Food
While You are Organizing Your Kitchen, Get Rid of Food That Is Killing You
Declutter Your Garage
Your Car Can and Should Fit In Your Garage
Eliminate Your Graveyard of Indecision
Tool Time for Inventory
Get It Off the Floor of Your Garage
Declutter the Rest of Your House
You Don't have to Be Instagram-Worthy, But…
You Don't Need a Storage Room
Touch Every Object In Your House Now and Reflect
Junk Your Junk Mail Now
You Aren't obligated to Become a Permanent Museum for Wedding Presents
Your Kids Can Be Guided Toward Clutter-Free Living
Your Kids Can Help, Not Hurt, Your efforts to Declutter – Really!
Here Is How You Can Ethically Bribe Your Kids to Get Rid of Old Toys
Make Your Own Bed Kid!
You Can Have a Yard You Are Proud Of
Your Yard Can Be Clean and Attractive
The Sun, Rain, and Wind Are Great Clutter-Creating Machines
Figure Out What Is Natural Versus What Is Unsightly Weeds
Your Car Can Look Great, Inside and Out
Make Your Car a Joy to Enter
Put a Garbage Can In Your Car
Never Confuse Your Car with a Free Mobile Self-Storage Unit
You Can Put More Than Gloves in Your Glove Compartment, But…
Your Car is Not a Pantry
Wash The Outside and Inside of Your Car Occasionally
Oops, We Almost Forgot the Attic and Basement
Sure, You Could Use Your Attic and Basement for Storage, But…
Make Sure You Aren't Storing a Fire Hazard
Your Attic Is Not Auditioning for a Role In an Old Movie
Don't Force Your Kids To Sort Through Your Junk When You Die
Create A Home Office You Look Forward to Stepping Into Each Day
Your Home Office Can look Inviting and Conducive for Work
Never Touch Paper More Than Once
Look At Email Once and Deal With It
Your Home Office Needs to Look Good and Impress One Person: You
Nobody Is Impressed With Your Book Collection Get Rid Of books You Don't Use
Don't Fool Yourself, You Are Not More Creative With a Messy Desk
Don't Let Your Computer Be a Digital Clutter Magnet
Your Clutter-Free Computer
Email Isn't Going Away
Don't Let Email Consume Your Day
Once a Day, Your Email Box Needs to Be Empty
Limit How Often You Check Your Email
Shorter Is Better
Use Your Subject Line to Maximum Advantage
Create Categories and Folders for Your Email
Make Your Email Address Top Secret Or At Least Semi-Secret
Don't Respond to Email Unless Absolutely Necessary
Productive People Still Use Old, Boring Email Newsletters Because They Work
What You Need to Know About Texting to Enhance Productivity
Miscellaneous Areas Of Life You May Need to Declutter
A Few Other Areas to Declutter
Never Check a Suitcase or Bag When Traveling
Purses, Wallets, and Briefcases – Don't Turn Them Into Dumping Grounds
Time to Declutter Negative People from Your Life
Mastering the Tech Details of SelfieSpeak Programming (SSP) for Decluttering
I'm Lazy and Messy Naturally, That's Why I Need SSPs
No Problem If You Hate Technology
Simple Solutions to Common Problems When Making Your Audios
Nobody Likes the Sound of their Own Voice
Reducing Clutter to Your Brain
Clear Out the Garbage that is Cluttering Up Your Brain
Declutter Your Brain by Writing a Daily Journal
The Source of Your Pollution
A News Junkie is still a Junkie
Your Perfect Media Diet
The #1 Source of Clutter in Your Life Is Your Cell Phone
Gain Mastery Over Your Cell Phone
Cell Phone Hygiene
Block, Tackle, Turn Off
Schedule Your Cell Phone Time for maximum Productivity and Happiness
SelfieSpeak Audio to Gain Control of Your Cell Phone
Declutter Your Body Now
Stop Throwing Garbage and Junk In Your Mouth
The Third Big Overabundance
It Is OK to Be Hungry Occasionally
Everything You Need to know About Eating
Don't Worry about How You Look to Others But How Your Body Feels to You
Most of Us Have to fight the Battle of the Bulge
Stop looking for the magic Bullet, Pill or Potion
There are No Obese 95 year olds
Gimmicks Don't Work in the Long-run
It's hard to Create or Transform If You Are Stuffing Your Face all Day Long
There is No Sugar-Coating it, Everything Is covered with Sugar These Days
You Need a Way to Eat in the Real World
Yes Fad Diets Will Work In the Short-term
Eating with Mindfulness Is the Answer
Water Is the Go-To Beverage
Name Your Weight
Eat Until Full and Stuffed, Or Satisfied
Plan for Big Temptations With a Healthy Snack
Vitamins or Not
Weigh Yourself Daily
Get Ready for Your Own SelfieSpeak Audio for Your Own Food Consumption
Eat to Live SelfieSpeak Audio
Conclusion to Minimalist Lifestyle Course
You Are Close to the End, Get Ready
Let's Practice a Little Minimalism Right Here Now
Congratulations! You Are Ready for a New, Minimalist Lifestyle!