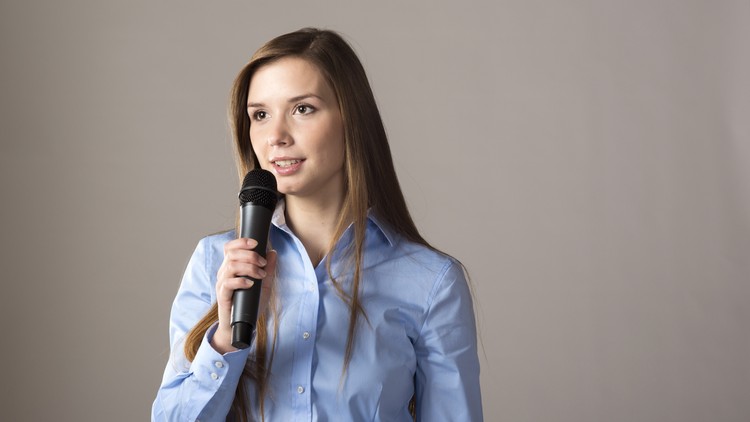 Media Training Public Speaking: political candidates can earn votes giving great campaign speeches and media interviews
What you will learn
Create and deliver a stump speech
Hone your campaign messages
Speak to the media with confidence
Create and deliver sound bites
Speak to any audience large and small
Description
  Media Training Public Speaking. You will learn how to speak to voters through speeches, presentations, debates, and media interviews. The course will help you develop a stump speech and learn how to master the media. In politics, the better communicator usually wins. While paid advertising and deep pockets are still important, the most potent force in any successful campaign is the candidate speaking and communicating effectively.
What will students achieve or be able to do after taking this Media Training Public Speaking course?
Create and deliver a stump speech
Hone your campaign messages
Speak to the media with confidence
Create and deliver sound bites
Speak to an audience large and small
Enroll today.
What do Udemy students say about this course?
"5 Stars! Whether it is to run for public office in my country or for a position of power here or abroad, I found this course to be extremely enlightening, engaging, earnest and intelligent, providing efficient confidence that even actors can benefit with their characters or in everyday life, thanks to the many years of personal experience and training that the instructor provides. A short and delightful course that illustrates the basis of what should be every political discourse. Short, sweet, and straight to the point. Tetrón" JR Adams
"5 Stars! very good…especially if you do the homework via video. an amazing value for the money." Kathryn Dodge
"5 Stars! The instructor clearly knows his stuff, communicates it well and inspires confidence. I feel I am in the hands of an experienced professional from whom I can learn a lot of information and techniques that will be of practical benefit to me." Séamus Martin
This Media Training course is ideal for anyone searching for more info on the following: journalism – media training – radio jockey – confidence on – camera – confidence – radio – camera – camera confidence – video – TJ Walker. Plus, this course will be a great addition to anyone trying to build out their knowledge in the following areas: journalism – videography – confidence.
English
language
Content
Win the Campaign by Communicating the Best Message
Convincing Voters that You Have a Great Reason to Run for Office
How to Find Your Top 3 Winning Messages?
Please Introduce Yourself
The One Big Secret to Beating an Incumbent
Win Votes Every single Time You Speak in Public
What are Your Speech Goals?
Assignment: Testing Your Communication To Make Sure It Works.
Exciting New Update to this Course
The Stump Speech
Stories
Brainstorm Every Topic and Message for Your Speech
How to start a speech
What is Your Water Cooler Message?
You Must Communicate with the Head and the Heart
Spell Out Benefits for Your Audience
Don't Make Your Speech a Data Dump
Writing a Speech
How Many Points Should Your Presentation Cover?
Magical Phrase for Every Speech
How to Start a Speech with an Icebreaker
What to Do if You Don't Like Your Voice
How to Speak with Confidence
How to Prepare a Speech
How to Give a Formal Speech
How to Put Your Audience at Ease
How to Pace a Speech
Tell 'em what I'm gonna tell 'em, tell 'em
Public Speaking Rules You Should Never Break
How to Recover from Making a Mistake
How can I find out whether my presentation worked
How to Handle Questions from the Audience
Should I read my speech so that I don't make any mistakes?
What to Do if You're Losing Your Audience
How to Prepare and Use Notes in a Speech
How to Handle a Heckler
Should I Rehearse My Speech and for how long?
How do I remember what to say in a presentation?
Why You Should Never Memorize a Speech
How to Make a Speech Powerful and Persuasive
How to Stop Saying Um and Ah when You Speak
How to Speak in Front of a Big Crowd
What if You are asked a question You Can't Answer?
Should I warn my audience I will be boring?
A Positive Attitude for Public Speaking
If my allotted speaking time is cut, what should I eliminate?
How to Move around while Making a Speech
How to Make Eye Contact with Your Audience
How to to Use a Teleprompter
How to Give a Motivational Speech
How to Sound Conversational in a Speech
How to Recover from Making a Mistake in a Speech
How to Make Prepared Remarks as Good as Your Q and A
What to Do with Your Hands when Making a Speech Public Speaking
Have a Public Speaking Improvement Plan
How to Use a Lectern or Podium When Giving a Speech
How to Close a Speech
Video Practice
Conclusion Public Speaking
Public Speaking – How to Tell Stories
Message Drives Stories
Stories Are the Most Important Part of Great Speeches
What is the setting for Your Story?
What Characters and Conflicts are in Your Story?
Your Speaking Stories Must Contain Dialogue
Share Your Emotions When telling Your Stories
Your Story Must have a Resolution
Media Training
Dealing with the Media
Media Training -How to Look Your Best on Camera
How to Look Your Best on TV Overview
How to Apply Makeup for TV Interviews
How to Smile for TV Interviews
How to Sit for TV Interviews
How to Use Your Eyes During a TV Interview
How to Move Your Head for Video Interviews
How to Move Your Hands for TV Interviews
How to Move Your Body for TV Interviews
How to Sit in Your Chair for TV Interviews
How to Dress for TV Interviews
How to Stand for TV Interviews
Media Training – Messaging
How to Frame a Media Message
A Media Message Answers all Basic Questions
Media Messages Must be Interesting to Reporters
Media Messages Must Resonate with Media Audience
Your Media Message Needs to Benefit You
Three is the Perfect Number of Media Messages
Media Messages using a Venn Diagram
Have a Positive Media Message
Add Quantifiable Results to Your Media Message
What Problem are you solving?
Media Training – How to Answer Questions
Answer One Question at a Time
How to Answer Questions in a Media Interview
Keep Your Eyes on Your Message Points
Do Not Repeat Negative Words from a Reporter
Tell Reporters 'I Don't Know'
Always Be Moving toward Your Message Points
Give Brief Answers to Tough Questions
Aim for All Three Messages In Every Answer
Re-Write the Reporter's Questions in Media Interviews
Don't Add One more thing at the End of the Interview
Don't try to Control the Interview
Media Training – Sound Bites
What is a Sound Bite? Overview
Sound Bites: Bold Action Words
Sound Bites: Reporters Love Cliches
Sound Bites: Emotion
Sound Bites: Give Specific Examples
Sound Bite Tools: Attacks
Sound Bites: Absolutes
Sound Bite Tools: Humor
Sound Bite Tools: Rhetorical Questions
Sound Bite Tools: Analogies
Sound Bite Tools Pop Culture References
Political Communication Conclusion
Conclusion
Improve by giving and Getting Criticism
Housekeeping Matters
Before We Start, Here is the #1 Tip to Improving Your Communication Skills
Who is TJ Walker?
7 Steps For Getting the Most Out of this Course
$10,000 Guarantee This Course Will Make You a Better Communicator
Time to Give TJ a Piece of Your Mind
Your Questions Will Be Answered Here, In Video
Bonus Reading
Bonus Update – You Should Get on the TikTok App Now
If You Like to Learn by Reading
Media Training A to Z
Media Training Success
Secret to Foolproof Presentations
Public Speaking Success
1001 Ways to Wow the Media
Final Bonus Lecture: Huge Discounts on Other TJ Communications Courses