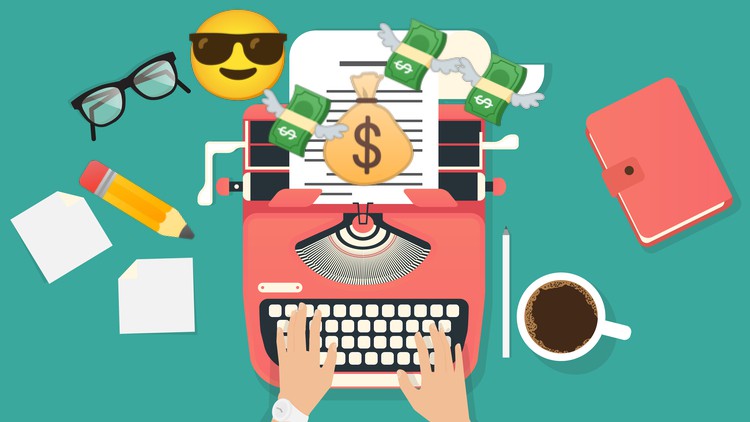 Beginner Copywriting Bible & Strategies I Wish I Knew About before I started – Become a Better Copywriter NOW!
What you will learn
Learn how to write high converting sales copy and skyrocket your online business
Learn how to write engaging social media ads and posts for maximum conversion rate and followers
Learn how to create intriguing copy for your website and boot your profits
Learn exclusive secrets to write clickbait catchy headlines that disrupt people's attention
Learn powerful copywriting techniques used by some of the world's most succesful copywriters
Improve Your Copywriting Skills and get 4 to 5 figure gigs on fiverr and upwork!
Description
Stop wasting time following the useless advice of so-called "Copywriters" that do not practice what they teach.
The great Robert Kyosaki said, "Find real teachers, not fake teachers." Fake teachers are the ones that teach what they never practiced.
Unfortunately, Some Udemy Instructors resort to unethical ways and go to lengths to make a few bucks.
I am a 5 Year experienced digital marketer, online entrepreneur, and freelancer.
Three years ago, I was working a 9 to 5 job and had no hope nor blueprint of how to get out and escape the matrix. I spent two years trying to crack the code of making money online, and all my attempts failed miserably.
I kept bouncing from one desperate failure to another, but once I earned my first bucks from a copywriting gig on Fiverr. I went for it non-stop.
Copywriting was and still is a true game-changer for me. It was freelance copywriting that allowed me to break free of the self-imposed chains of slavery from my tedious 9 to 5 job.
Today, I have multiple income streams, and copywriting plays a significant role in my online success.
If you're interested in improving your online market value and taking your skills to the next level.
Enroll NOW.
Whether you own a business, work as a freelancer, or seek a corporate job as a copywriter, this course will help improve and take your copywriting skills to the next level.
Copywriting is what key to online business success.
If your sales landing page copy fails to convert more clients, it's primarily due to low-quality copywriting.
The words you write for your online business are directly responsible for the overall success of your marketing creativity.
Using the right words can make the difference between making five figures or seven numbers.
Copywriting can :
Take your clickthrough rates from as low as 10% to 70%
Get your Facebook ads shared ten times or 900 times
It can be the difference between landing pages converting at 2% or 10%
No matter what your business is, if you're copywriting sucks, then your business is doomed to have negligible conversion rates and low profit.
You can have the best website design and architecture, but if copywriting doesn't rise to the occasion, no sales will come your way!
Successful copywriters aren't crushing it by mistake.
Copywriting success is not the same as winning the lottery; there is a FORMULA behind every copywriter's success. So do not be fooled into thinking that you can reinvent the wheel!
Enroll Now and learn what words have the potential to increase the level of your online success. This course includes simple and easy-to-follow copywriting frameworks that remove all guesswork. It's all science and a customer mindset psychological approach.
After taking this course, you'll learn all the neccesary copywriting tactics so that you can comfortably send or publish fail-proof for more copy engagement, subscribers, conversions, sales, etc…
Learn at your page and effectively apply copywriting best practices to everything you write.
Copywriting is the art and science of fluently delivering words to motivate people to take action.
If you Need more subscribers? Copywriting is helpful.
If you need more email open rates, more visitor engagement, conversions? You've got this because Copywriting can help you big time.
Becoming great at copywriting can be a life-changing competency to transform the success of your business and 10X your sales.
English
language
Content
Introduction
Introduction
The harder problems you solve, the more MONEY you make!
Develop an ability to work HARD!
Learn the core psychological PAIN of your ideal customer
Identify your customer's biggest PAIN and desired PLEASURE.
Encouragements
Find out your IDEAL CUSTOMER's DREAMS
Learn about the limiting beliefs of your Ideal customer
IF then LAW
Work on your Ideal customer's Perceived VALUE!
Copywriting 1O1 : Learn the Basics of ENGAGING Copywriting
Product value equation
The dotcom secrets VALUE LADDER
Encouragements
Customer lifetime VALUE
How to find your IDEAL Customers!
Common FUNNELS
Build a BRIDGE of Customer TRUST!
Qualify Buyers in heat at the critical moment
Prepare your audience before directing them to your sales landing page
Prepare your audience before sending them to your sales page!
Case Study : Sales page analysis
Encouragements
Build a SWIPE file and email ADRESS!
Spy on the COMPETITION for Copywriting Inspiration
Spy on competitor facebook ADS
Take your time to Learn a LOT of information about your IDEAL Customer
Sharpen the SAW – Dedicate more time to customer research
What valuable information to learn for during the research phase
Encouragements
Where to find real data about your ideal customers
How much research is enough
Use the CLICKBAIT effect to convert more people
Use the clickbait effect to convert more people
Use fascination as an attention Magnet
Encouragements
Take one step at a time
DIC Framework : DISRUPT-INTRIGUE-CLICK
Short form copy and long form copy
DIC Framework – Disruption
DIC Framework – Intrigue
DIC Framework – Call to action
Encouragements
Amplify pain to motivate people to change
HOOK-STORY-OFFER Copywriting Framework
HOOK-STORY-OFFER-FRAMEWORK
Copywriting Must DO's before you PUBLISH!
READ IT OUT LOUD
Encouragements
Avoid friction
One Idea at a time to avoid creating confusion
Create Links between paragraphs
The ideal lenght of SHORT FORM COPY
A picture is worth a thousand words
Avoid Grammar mistakes like the plague