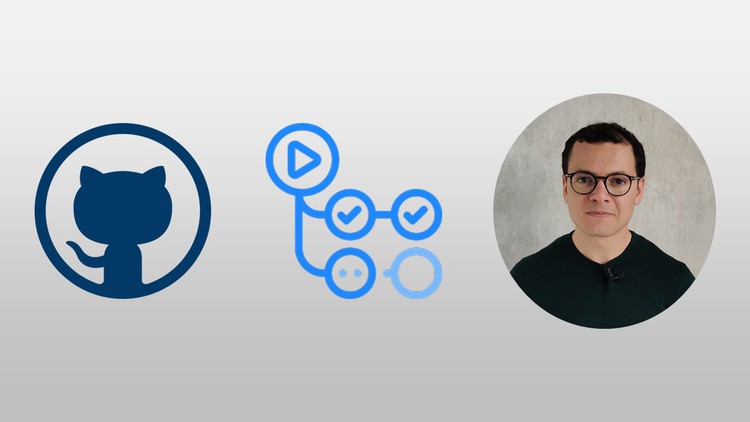 Learn how to create DevOps CI/CD pipelines for web, database, container and cloud apps with Github Actions
What you will learn
Description
Content

What you will learn
Description
DevOps became very important for organizations willing to automate and modernize their workloads. Thanks to its capabilities, it is never been easier create a pipeline that can do all the required steps to build 'almost' any kind of application and deploy 'almost' to any environment. All of this with a click of a button.
Not only that, using DevOps features makes it possible to secure the pipelines when managing secrets or when connecting to the target production environment. That become today what is known as DevSecOps.
Many known tools are available to implement DevOps like Jenkins, Gitlab CI, Azure DevOps Pipelines and many more. Github Actions is one of these tools. It did become popular from the first day it was launched back in 2018. That success was due to the popularity of Github as a platform to host the source code used by more than 50 million users. It was very natural to use the same platform to build and deploy that code into production.
This course will walk you through the creation of CI/CD DevOps pipelines to take your code, build it, scan it, test it then deploy it into Dev, Test and Prod environments whether that is in premise or on the cloud.
Using multiple demonstrations, we will show the powerful features of Github Actions.
Content
Starting with the basics
Create first Github Actions workflow
Create workflow with input
Creating Workflow for .NET apps
Create workflow for .NET app
Create workflow to build and deploy web app into Azure cloud
Deploying Infrastructure into the Cloud
Deploying Terraform infra into Azure
Deploy Bicep infra with Github Actions (part 1)
Deploy Bicep infra with Github Actions (part 2)