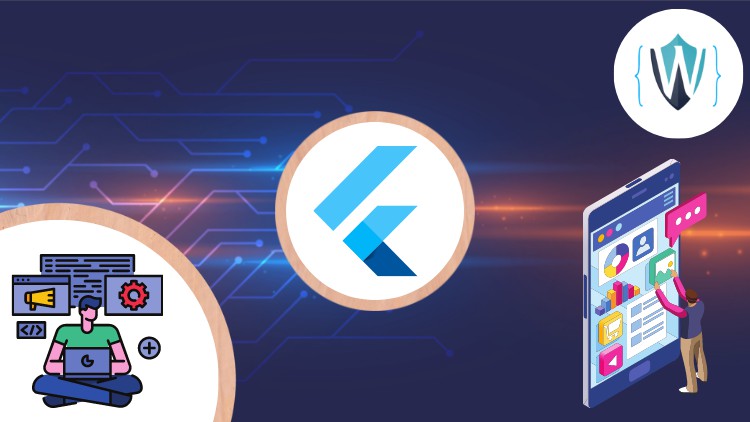 Learn to create Awesome Mobile Apps using Flutter and Dart
Learn Flutter and Dart from square one, step-by-step
Understand all the fundamental concepts of Flutter development
Master Dart & Flutter Framework
Build Android & iOS apps using one programming language(Dart)
Become a competent ,fully-fledged Flutter developer
Build multi-screen apps using various widgets in Flutter
You don't need to learn Android/ Java and iOS/ Swift to build real native mobile apps!
Flutter – a framework developed by Google – allows you to learn one language (Dart) and build beautiful native mobile apps in no time. Flutter is an SDK providing the tooling to compile Dart code into native code and it also gives you a rich set of pre-built and pre-styled UI elements (so-called widgets) which you can use to compose your user interfaces.
Our complete Flutter development Bootcamp teaches you how to code using Dart and build beautiful, fast, native-quality iOS and Android apps. Even if you have ZERO programming experience.
Flutter is the new Cross-platform Mobile Development Framework created by Google, allowing developers to build Android and iOS Apps with one single codebase!
Flutter is the BEST way to create cross-platform apps that otherwise would require two distinct mobile development teams to create.
Why is Flutter a BIG Deal?
Flutter is a big deal because any developer (or anyone who wants to learn mobile development) can now build native Android and iOS apps with one codebase ONLY! This means, instead of having to learn Objective-C or Swift to build iOS apps, and Java, or Kotlin to build Android apps, you can now use Flutter Mobile Development Framework to build apps that run natively on both iOS and Android devices using the General-purpose Dart Programming Language.
Topics that are going to cover during these 30 days:-
1. Core Concept of Dart
2. Core Concept of Flutter
3. Basic ideas of widgets
4. App implemented through widgets
5. Firebase Database
6. App with database implementation
English
language
Flutter Installation & Dart
Flutter Installation
Dart Programming
Widgets
Flutter MaterialApp, Scaffold
Container
Row and Column
Text and Text Field
Flutter Mini Project 1
Buttons
Stack
Forms
Icons
Images
Card Widget
Drawer and Tab bar
Alert Dialog
Lists
Flutter Mini Project 2
Gridview and Toast
Checkbox and Radio Button
Progress Bar and Snack Bar
Tooltip and Slider
Switch and Tables
Calendar
Navigation and Routing
Splash Screen
SignUp with Firebase
SignIn with Firebase
Database
Flutter Project