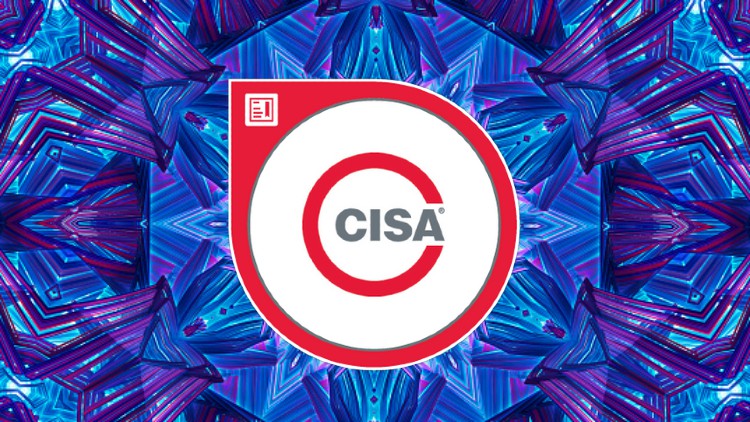 Are you ready to get certified on Isaca CISA, this is the best course for you.
What you will learn
benefit from Isaca CISA
be the first who can reach the Isaca CISA
get certified on Isaca CISA
learn and experience the Isaca CISA
Description
ISACA's Certified Information Systems Auditor (CISA) designation is a globally recognized certification for IS audit control, assurance and security professionals.
This certification is issued by ISACA to people in charge of ensuring an organization's IT and business systems are monitored, managed and protected. It is presented after completion of a comprehensive testing and application process. It is designed for IT auditors, audit managers, consultants and security professionals.
The certification provides the holder with greater visibility throughout the job application process since most recruiters prefer and keep an eye out for IT auditors with a CISA certification.
Being CISA-certified showcases your audit experience, skills, and knowledge, and demonstrates you are capable of assessing vulnerabilities, report on compliance and institute controls within the enterprise.
CISA provides a valid and reliable means for enterprises to identify technologists who are competent in incorporating privacy by design into technology platforms, products and processes, communicating with legal professionals, and keeping the organization compliant efficiently and cost effectively. CISA proves your team has the technical skills and knowledge it takes to assess, build and implement a comprehensive privacy solution while enhancing business value, customer insights and trust—ultimately improving your organization's image.
Isaca CISA: Certified Information Systems Auditor'
The Certified Information Systems Auditor (CISA) certification is for individuals who have interest in information systems auditing, control and security.Demand for IT auditing services has increased as more and more accounting functions are performed through information systems.Certified Information Systems Auditor (CISA) refers to a designation issued by the Information Systems Audit and Control Association (ISACA).Validate your expertise and get the leverage you need to move up in your career. With ISACA's Certified Information Systems Auditor (CISA) certification, you can do just that. CISA is world-renowned as the standard of achievement for those who audit, control, monitor and assess an organization's information technology and business systems.CISA holders demonstrate to employers that they have the knowledge, technical skills, and proficiency to meet the dynamic challenges facing modern organizations.Prove your expertise in IT auditing, control and security and be among the most qualified in the industry.
The ISACA CISA certification is designed to validate your skills and expertise as an information systems auditor. It is a globally recognized certificate, which is regarded as an achievement standard for the professionals who audit, monitor, assess, and control the business systems and information technology of an organization. This is also a top choice for the individuals looking to explore a new career in the field of IT and those who want to grow in their current company. It validates one's competence in the information systems auditing process, governance and management of IT, information systems acquisition, development, and implementation, as well as information systems operations, business resilience, and protection of information assets.
Target Audience:
The potential candidates for the ISACA CISA certification are the information technology and information security auditors as well as control, assurance, and information security professionals. These are the specialists with expertise in the field of security and information technology. They have the competence and skills required to achieve success in the prerequisite exam.
Prerequisites:
The main requirement for earning the CISA certification is to pass one test. However, before you can take it, you are required to have at least five years of practical experience in the field of information security and information technology audit. The candidates should also have experience with control, assurance, and security. If you don't have up to five years, you can also complete the exam with a minimum of two years of hands-on experience in the domain of the qualifying test.
Objectives:
The certification exam covers five domains. These are information system auditing process (21%), governance and management of IT (17%), information systems acquisition, development, and implementation (12%), information systems operations and business resilience (23%), protection of information assets (27%). Let's look at these objectives in detail.
Information Systems Auditing Process: This topic area evaluates your ability to provide conclusions on the status of IS/IT security, control, and risk solutions of an organization. It will measure your skills in the following subsections:
Planning – IS audit standards, guidelines and codes of ethics; business processes; types of controls; risk-based audit planning; types of assessments and audits;
Execution – audit project management; sampling methodology; data analytics; communication and reporting methods; audit evidence collection methods.
Governance & Management of IT: This section is designed to evaluate one's capability to identify different critical concerns and recommend specific enterprise practices to safeguard and support information governance and related technologies. These include the following:
IT Governance – IT governance & IT strategy; IT policies, procedures, and standards; IT-related frameworks; organizational and enterprise structures; enterprise risk management; maturity models;
IT Management – IT resource management; service provider management and acquisition; quality management and quality assurance of IT; IT performance reporting and monitoring.
Information Systems Acquisition, Development, & Implementation: This subject will measure the candidates' skills in the following subtopics:
Information system acquisition and development – project management and governance; control identification & design; system development methodologies; business case & feasibility analysis;
Information systems implementation – testing methodologies; system migration, data conversion, and infrastructure deployment; post-implementation review.
Information Systems Operations & Business Resilience: This domain is designed to evaluate the individuals' skills in IT controls as well as their knowledge of how IT relates to an enterprise. It requires that you have competence in the following areas:
Information systems operations, which cover basic technology components, IT asset management, system interfaces, data governance, end-user computing, problem & incident management, systems performance management, database management, and IT service level management, among others;
Business resilience is the second phase, which covers skills in system resilience, business impact analysis, business continuity plan, data backup, storage & restoration, as well as disaster recovery plans.
Protection of Information Assets
This objective has the highest percentage in the exam content, which means that you need to pay more attention to its components. The questions from this topic will measure your knowledge of the following:
Information asset security and control – privacy principles; data classification; virtual environments; information assets security frameworks, guidelines, and standards; identity & access management; public key infrastructure; data encryption & encryption-related methods; network & endpoint security; physical access & environmental controls;
Security Event Management – security awareness programs and training; information system attack techniques; security testing tools and methods; security monitoring tools and methods; evidence collection and forensic; incident response management.
You should also be ready that there will be about 39 supporting tasks that include various processes connected to the exam concepts. Therefore, it is important to master all the objectives.
Exam Pattern for Information Systems Auditor (CISA) Certification Exam:
Duration: 4 hours
Format: Multiple Choice Questions
Total Questions: 150
Languages: Chinese Mandarin Simplified, French, Japanese, Korean and Spanish
Information Systems Auditor (CISA) Certification Exam is administered in June, September, and December in testing locations worldwide.
English
language