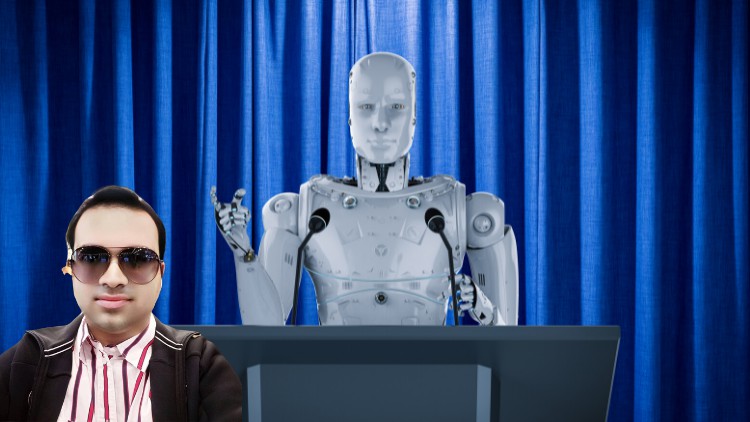 MBA in Artificial Intelligence Digital Marketing: Term 3.5 course on deploying Digital Robot Teachers for Classrooms
What you will learn
Learn to use speaking characters to revolutionise teaching and education.
Learn about the latest facial mocap software to bring 3D characters to life using your webcam.
Learn about virtual humans – the most realistic humans that can bring Artificial Intelligence (AI) to life.
Learn about the existence of a real-time animation software or engine for character creation, development and mocap (using a webcam)
Description
Welcome to the fifth course in Term 3 as part of the series "MBA in Artificial Intelligence Digital Marketing".
Get ready to provide professional training using computer avatars that directly interact and engage with users. The impact of avatars on education is simply incredible. Avatar-guided programs allow teachers like you to train in a virtual classroom.
What's having an avatar all about?
An avatar is a figure or character that can be created and customized using cloud-based tools. Avatars can be used for teacher training. Instructional coaches use a virtual classroom to train teachers by helping them master strategies such as questioning at a higher level or managing behaviour. Avatars imitate different types of students to help teachers practice classroom management and relate to their students. The trainee teachers stand in front of a projection screen on which they see avatars that are being controlled, or acted out, by actual students trained to behave a certain way.
Avatar-guided programs allow teachers to train before real students in a virtual classroom without the risk of making mistakes. Also, creating 3D trainer avatar characters across a school has initial start-up costs as well as fixed and variable costs that can be reduced as the software program is used over time.
This mind-blowing course teaches you some tools – even apps to create avatars in 2D or 3D for educational or instructional use in your classroom. We will also glance at a real-time 3D animation tool to speed up the animation process to create faster avatar animation – without any technical skills required from your end.
Did you know?
Impact on student learning studies conducted by the top universities in the world found that instructor applicants have changed the way they work in the classroom following four 10-minute sessions using avatar-powered platforms like VOKI. Look at the first lecture to understand how to use the VOKI platform.
Students feel more engaged and enthusiastic by imitating the layout of campus and classrooms, even if they learn independently at home. This concept of immersive environments applies not only to universities but also to all kinds of online learning; it allows students to be part of a particular environment rather than feel like they are learning in isolation.
Avatars increase confidence in information sources, according to a Stanford study, and research shows that when characters guide interactions, people trust the information more than in identical, character-free interactions.
So, enrol now, there is a lot more to discover here in this course about Robot Teachers or what we call 'Avatars'.
What are you waiting for? There is no time to waste.
There are no technical skills required to learn this course. Nevertheless, the use of cloud-based animation tools and software taught in the course that meets your requirements may be procured by you (if you need) for specific purposes of your choice.
Let's get busy and start changing your teaching or animation career and life, one step at a time.
English
language
Content
Invade Your Classroom with Digital Robot Teachers: The Course
Introduction to the Course and using Voki: Speaking characters for education
3D Robots brought to live with Webcam Facial Mocap Technology
Virtual Humans and 3D character transformation tools for 2020 Markets
Top Fastest Realtime Animation and 3D Render Software: Detailed
An app for real-time 3D Pixar like character transformation (Facial Mocap Tech)
Bonus Lecture: Take your prize