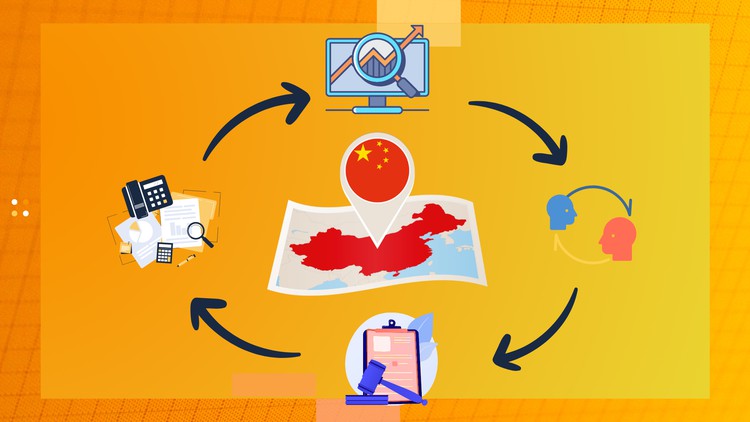 Market Entry Strategies, Market Research, Legal and Regulatory Framework, Social Media Marketing
What you will learn
Introduction
Background: Doing Business in China
Benefits of Starting a Business in China
Challenges Facing Foreign Businesses in China
What Makes the Chinese Market So Special
How to Do a Market Research
Business Environment of China
Cultural Differences in China
Chinese Consumer's Behavior
Technological Advances in China
Investing in China's Free Trade Zones
Local Accounting and Tax Policies and Regulations
Local Employment Matters
Who Can Help You in China
Legal Entities in China
Wholly owned Foreign Enterprise (WFOE)
China Joint Venture
Representative Office (RO)
Foreign Invested Partnership Enterprise (FIPE)
Other Options- Using a Hong Kong Entity
How to Start Your Business in China
How to Pick a Business Location
How to Choose a Legal Structure
How to Prepare All Necessary Documents
How to Register Your Business & Get License
How to Open a Bank Account
How to Create Your Business Plan
How to Fix Your Marketing Strategy
Best Strategies to Enter the Chinese Market
How and Where You Can Find Your Potential Customers
Social Media Marketing
Best Way to Sell in China
How to Set Your Distribution Strategy
Case Study- Starbucks Entry to China
How to Grow Your Brand
How to Translate Your Brand's Name into Chinese
How to Sell Your Brand to Chinese
Build a Strong Reputation Online
Generate Your Leads
Protect Your Brand in China
Description
As one of the largest and fastest-growing economies in the world, China presents a wealth of opportunities for businesses looking to expand their global reach. However, navigating the Chinese market can be complex and challenging, requiring a deep understanding of the cultural, legal, and business landscape.
Another important factor to consider when doing business in China is the legal and regulatory landscape. China has its own set of laws and regulations governing business activities, and it is important to understand and comply with these regulations to avoid legal and financial risks. This includes registering your business, obtaining the necessary licenses and permits, and complying with tax laws and other regulations.
In this course, we will provide you with the tools and knowledge you need to navigate these and other challenges when doing business in China. We will cover topics such as market research, cultural awareness and communication, legal and regulatory compliance, business strategy and planning, and more. Our goal is to provide you with a comprehensive understanding of the Chinese market and the skills and knowledge needed to succeed in this exciting and dynamic business environment.
Whether you are new to the Chinese market or have some experience doing business in China, this course will provide you with valuable insights and practical guidance to help you achieve your goals. We look forward to helping you succeed in the Chinese market and achieve your business objectives.
English
language
Content
Module 1 : Why Start a Business in China
Introduction
Lesson 1: Background of Doing Business in China
Lesson 2: Benefits of Starting a Business in China
Lesson 3: Challenges Facing Foreign Businesses in China
Lesson 4: What Makes the Chinese Market So Special
Lesson 5: Do a Market Research
Lesson 6: Remember These Rules
Quiz_Module 1
Module 2: Business Environment of China
Lesson 1: Cultural Differences in China
Lesson 2: Chinese Consumer's Behavior
Lesson 3: Technological Advances in China
Lesson 4: Investing in China's Free Trade Zones
Lesson 5: Local Accounting and Tax Policies and Regulations
Lesson 6: Local Employment Matters
Lesson 7: Who Can Help You in China?
Quiz – Module 2
Module-03: Legal Entities in China
Lesson 1: Wholly owned Foreign Enterprise (WFOE)
Lesson 2: China Joint Venture
Lesson 3: Representative Office (RO)
Lesson-4: Foreign Invested Partnership Enterprise (FIPE)
Lesson-5: Other Options- Using a Hong Kong Entity
Quiz – Module 3
Module-04: Start Your Business in China
Lesson-1: Pick a Business Location
Lesson-2: Choose a Legal Structure
Lesson-3: Prepare All Necessary Documents
Lesson-4: Register Your Business & Get License
Lesson-5: Open a Bank Account
Lesson-6: Create Your Business Plan
Quiz – Module 4
Module 05: Fix Your Marketing Strategy
Lesson-1: Best Strategies to Enter the Chinese Market
Lesson-2: How and Where You Can Find Your Potential Customers
Lesson-3: Social Media Marketing
Lesson-4: Best Way to Sell in China
Lesson-5: Set Your Distribution Strategy
Lesson-6: Case Study- Starbucks Entry to China
Quiz – Module 5
Module 06: Grow Your Brand
Lesson-1: Translate Your Brand's Name into Chinese
Lesson-2: How to Sell Your Brand to Chinese
Lesson-3: Build a Strong Reputation Online
Lesson-4: Generate Your Leads
Lesson 5: Protect Your Brand in China
Lesson 6: Case Study- Lancôme Establish Their Brand in China
Quiz – Module 6