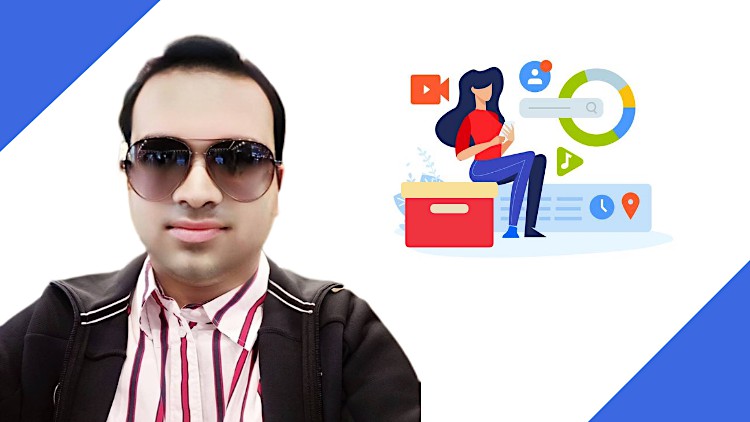 MBA in Artificial Intelligence Digital Marketing: Term 1.10 course focussed on Digital Marketing and futuristic tech
What you will learn
☑ Explore the scope of Digital Marketing with Artificial Intelligence in Bangalore and India in 2021.
☑ Select a good digital marketing institute in Bangalore to get trained in Artificial Intelligence Digital Marketing (AIDM).
☑ Find a good mentor for digital marketing training purposes
☑ Be aware of the various salaries for digital marketers in Bangalore and India
☑ Know about the various tools in digital marketing with artificial intelligence for industry domination
☑ Get to know about practical interview tips to tackle marketing interviews
Description
Welcome to the tenth course in Term 1 as part of the series "MBA in Artificial Intelligence Digital Marketing".
The digital marketing world is evolving day by day with the rise of new technologies. Currently, in the city of Bangalore, there has been an advent of new companies or startups which have emerged this year. As Bill Gates said–"If your company isn't on the internet, your business will be out of business,". Each businessman is trying their best to catch online users ' interest. Businesses are therefore developing new strategies each year and are now following marketing tactics extensively. There is much scope for more growth in digital marketing in 2021, also. Educational institutions that teach digital marketing technologies that can create an impact have also taken the digital marketing world by storm by introducing new-age courses in this competitive brandscape. To students, who know the online world, there are plenty of possibilities in the field of digital marketing. They can firmly take the first steps into a promising future.
Marketing in social media refers to using social media platforms such as Facebook, Instagram, Twitter, YouTube, etc. to promote or advertise brands or products. Today, with the help of these social networking sites, when the internet has become the basic need, one can easily reach millions of customers.
Digital marketing has continually evolved from billboards and big data to meet the needs of both consumers and brands. Through expanded mobility and proven digital infrastructure, improvements are emerging even sooner today. As technological innovations grow, the mainstream digital marketing field of paid media, SEO, content marketing, social media, community management, and more are undergoing drastic advances and changes. With an estimated $46 billion in programmatic advertising in 2021, it is expected that 92% of all digital display ads will be delivered by automation by 2022. The move to Artificial Intelligence (AI) automation offers a more streamlined, efficient, and accurate solution to paying marketing, while at the same time reducing customer acquisition costs. In an industry often saturated with sensationalist talk around technology, Artificial Intelligence growth in the year 2021 is going to completely transform digital marketing, altogether.
The education required for a career in the digital marketing field will generally vary, depending on the position. Generally, earning a certificate in Internet marketing, SEO, social media, growth hacking or a related area of expertise, is a good start to thrive in Bangalore or in India.
This mind-blowing course "Digital Marketing Course in Bangalore: Student Edition" created by Digital Marketing Legend Srinidhi Ranganathan, (an amazing trainer from Bangalore, India) will explain the scope and growth potential of digital marketing. Furthermore, it will talk about how one can select a good digital marketing institute in Bangalore, selection a good mentor and the real facts or interview questions that will be asked by an interviewer. Why wait? So enrol now. Let's start booming the show.
English
Language
Content
Digital Marketing Course in Bangalore: Student Edition – The 2020 Course
Course Introduction: Learn Digital Marketing in Bangalore
What do we mean by Artificial Intelligence technology in Digital Marketing?
Selecting a good digital marketing mentor or institute in Bangalore
Digital Marketing with Artificial Intelligence Tools: A snapshot
Top Digital Marketing Interview Questions and Interviews
More digital marketing tools for industry domination
Bonus Lecture: Take your prize