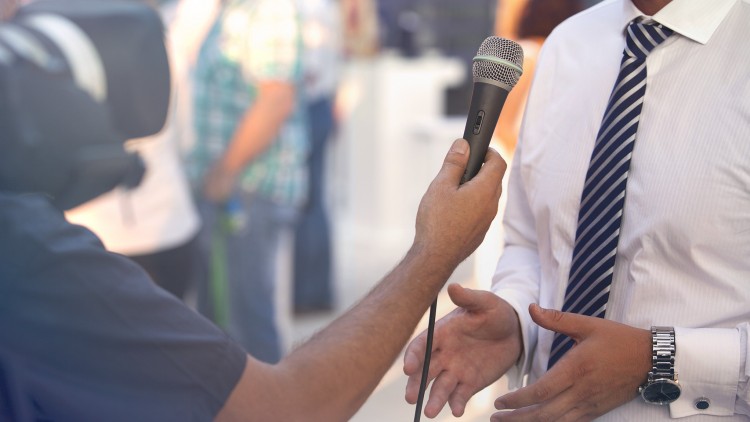 How to develop your message, get ready for questions and create sound bites in less than an hour. Plus look your best.
What you will learn
Preparing for a media Interview within 2 Hours
Developing a message
Having a strategy for answering questions
Creating sound bites
Looking good on TV
Description
  Emergency Media Training: Facing a Reporter Within 2 Hours
This course will quickly teach you how to look your best on camera, prepare a message, develop a strategy for answering questions and create sound bites for that interview staring you in the face. This no-frills course gives you nothing but the bare essentials–you should be able to complete the course in 30 minutes or less. That way you will have more time to practice for your upcoming interview.
TJ Walker has trained more than 10,000 executives from six continents over the last 30 years including Presidents of countries, Prime Ministers, Nobel Peace Prize winners, Members of parliament, US Senators and Miss Universes. He will teach you the same techniques that leading executives pay top dollar for in one-on-one training sessions.
Reputations are often made or broken during the first few media interviews conducted during a crisis or breaking news story event. You do NOT want to learn through trial and error in front of thousands or even millions of viewers/listeners/readers.
There is a system for preparing mentally and emotionally for every interview. Walker's techniques are not common sense, but they are easy to learn and easy to follow. More importantly, they will help you get the ultimate result you are looking for:  your message in the final story.
Now is your chance to learn essential media training skills from a first-class media trainer. You will not regret signing up for this class. If you are facing an upcoming interview in the very near future, please sign up today for Emergency Media Training: Facing a Reporter Within 2 Hours
There is a 100% Money-Back Guarantee for this course. And the instructor also provides an enhanced guarantee.
Here is what Udemy students say about this course:
"TJ Walker not only knows what he's talking about but also delivers essential information in an engaging manner with clear examples of what to do and what not to do. He's spot on regarding messaging (refining the three points you need to make) and how to prepare on short notice. Between the training videos and the PDF books included in the course, it's invaluable — and affordable for just about anyone. I took a media training course in NYC which required me to fly in for three entire weekends over the course of three consecutive months; TJ Walker covered essentially the same content right here. I've worked in radio/television as a producer/host and I've been interviewed by national media outlets from Good Morning America to the New York Times, so I'm picky; and I'm typically critical of those I see out there passing themselves off as media training experts, especially since I do media training (on a much smaller scale) myself. TJ Walker is the real deal. Though the production values aren't high end and the lighting/background could use some tweaking, the content itself is top-notch. Whether you have only two hours or up to two days before your interview, you'll have a significantly better chance of success by investing part of that time in taking this" Linda Lowen
***
"I faced a lot of tvs, Radio, and Phone interviews in recent months. My only desire is I wish I had discovered this course prior. This knowledge is more than helpful, it ensures professional approaches, techniques, styles and clear explanations. Great work TJ keep em coming. Our company paid in excess of $3500 to have 4 (1hr) training sessions for 3 staff and I learned a lot more in this quick 40 min course, GREAT VALUE !!"  Robert Masters
This Media Training course is ideal for anyone searching for more info on the following: journalism – media training – radio jockey – confidence on – camera – confidence – radio – camera – camera confidence – video – TJ Walker. Plus, this course will be a great addition to anyone trying to build out their knowledge in the following areas: journalism – videography – confidence.
English
language
Content
Emergency Media Training – You Can Get The Messages You Want in the Final Story
Here is How to Get Exactly What You Want
Whatever You Do, Don't Do This!
You Can Create a Winning Message
How to Make the Media Find You Fascinating
Message for Audience
Final Message
Message Test
Answering Questions
Assignment: Testing Your Communication To Make Sure It Works.
Exciting New Update to this Course
Creating Sound Bites
Conclusion
Video Practice and Conclusion
Time to Give TJ a Piece of Your Mind
Course Update! Live Instructor Office Hours are Now Available
Additional Help – Come Back Here After Your Media Emergency is Over
7 Steps For Getting the Most Out of this Course
Here is the #1 Tip to Improving Your Communication Skills
Who Is TJ Walker?
$10,000 Guarantee This Course Will Make You a Better Communicator
If You Like to Learn by Reading
Your Questions Will Be Answered Here
Bonus Video
Bonus TV Tips
Bonus Books
Media Training Success
Media Training A to Z
1001 Ways to Wow the Media
Final Bonus Lecture: Huge Discounts on Other TJ Communications Courses