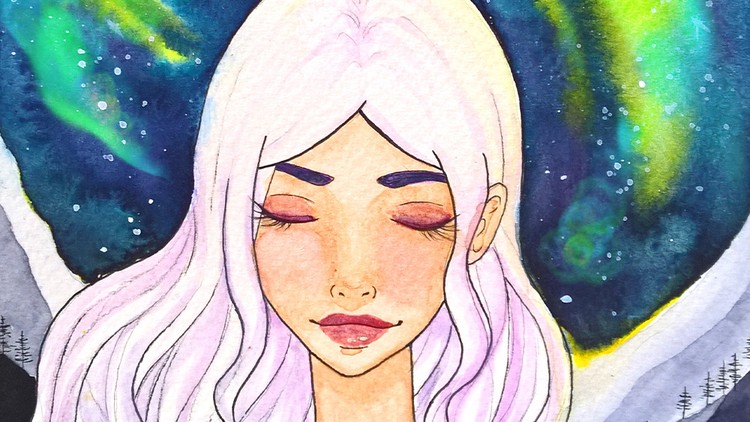 Upgrade your watercolor skills and paint a manga portrait with a galaxy northern lights background now!
What you will learn
Painting a watercolor galaxy pattern
Coloring a stylized manga portrait from line art template
Extra lesson: paint a watercolor galaxy nebula hair
Description
In the end of the class you will be able to…
a) color your own watercolor portrait painting
b) and paint a galaxy sky background witt northern lights
So, take this class if you like fantasy/ magical themed artworks, but never dared to color a stylized manga portrait on your own.
Please note, in this class we won't learn how to draw the portrait, instead you can download my lineart template, so you don't need to struggle with drawing, all you need to do is grab your brushes and paint along with me.
I'll walk you through:
· How to paint a stunning galaxy night sky with northern lights
· Portrait painting essentials : mix your own skin colors
· Where to put the shadows and highlights to make the portrait more outstanding
· My easy method for painting beautiful, flowy hairs
· How to paint misty mountains and illustrate depth and distance in the background
· My secrets on how to ink like a pro
· How to transfer the linework onto watercolor paper
· All along the class in an easy to follow and fun way
I do believe coloring should be fun and not something you worries over and over.
Not something that makes you even more frustrated and anxious.
So come, take my class and discover the true joy of painting!
Ohh, and if all the below mentioned reasons are not enough for you, have I mentioned that in the end you will have your own Aurora watercolor painting, which you can hang on your wall and brag about your friends 😉
Interested?
Let's meet in the class!
English
language
Content
Introduction
Introduction
Introduce yourselves!
Get ready to painting
Tools
Tracing the Line Art
Inking the Line Art
Get Ready to Painting
Preparation – Summary
Painting
Inspiration for the Northern Lights
Painting the Night Sky
Splattering the Stars
Painting the Face
Painting the Hair
Painting the Clothes
Painting the Accessories
Painting the Misty Mountains
How to paint a galaxy night sky hair
Extra lecture : Paint a Galaxy Night Sky Hair ( Preparations)
Extra Lecture: Tools
Extra Lecture: Inspiration for the Galaxy Sky
Extra Lecture: Painting the Galaxy Hair
Extra Lecture: Splattering the Stars
Summary
Congratulations for finishing the class!
Class credits
Bonus Lecture
Bonus Lecture