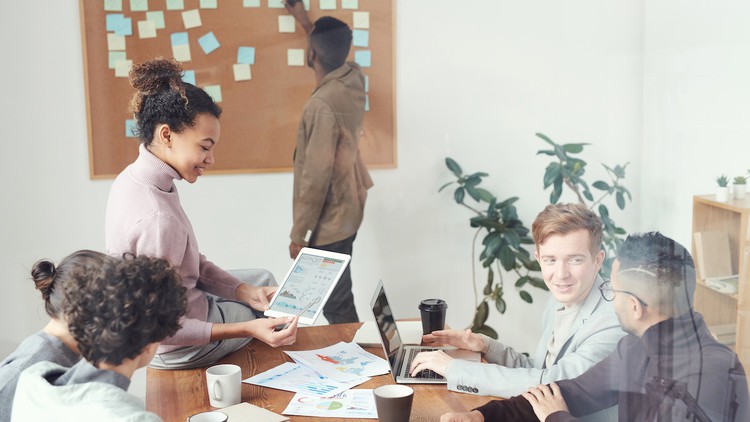 Master decision making and analytical thinking and coaching practices from Fortune 500 firms taught by top expert
What you will learn
Solve typical challenges in decision making and analytical thinking and coaching scenarios using Fortune 500 firm best practices
Master emotional and social intelligence research-based approaches to decision making and analytical thinking and coaching
Develop a plan with specific next steps to adapt for your toolkit decision making and analytical thinking and coaching best practices from Fortune 500 firms
Discover how Fortune 500 firms defeat dangerous judgment errors (cognitive biases) that harm decision making & analytical thinking & coaching
Align these strategies with International Coaching Federation Core Competencies for decision making and analytical thinking and coaching skills
Description
Your decision making and analytical thinking and coaching skills will determine whether you thrive in the increasingly-disrupted post-COVID future of work.
Yet traditional advice in decision making and analytical thinking so often leads to disasters, as revealed by research in behavioral economics, psychology, and cognitive neuroscience. So what are the best practices for Fortune 500 firms to make the right calls on decision making and analytical thinking and coaching scenarios?
Fortune 500 firms recognize that behavioral science has revealed that our typical approach to decision making and analytical thinking skills suffers from systematic dangerous judgment errors called cognitive biases. Fortunately, recent scholarship has revealed effective yet counterintuitive strategies to enable you to defeat these cognitive biases. In this course, you will learn about and address these dangerous judgment errors, while mastering techniques for decision making and analytical thinking and coaching drawing on cutting-edge behavioral science and real-world best practices from Fortune 500 companies.
After taking this course, you will:
· Solve typical challenges in decision making and analytical thinking and coaching scenarios using Fortune 500 firm best practices
· Master emotional and social intelligence research-based approaches to decision making and analytical thinking and coaching
· Develop a plan with specific next steps to adapt for your toolkit decision making and analytical thinking and coaching best practices from Fortune 500 firms
· Discover how Fortune 500 firms defeat dangerous judgment errors (cognitive biases) that harm decision making & analytical thinking & coaching
· Align these strategies with International Coaching Federation Core Competencies for decision making and analytical thinking and coaching skills
Here's a recent testimonial from Cheryl Smith, Global Director of Talent Management, Organizational Capabilities, and Diversity at Xerox, a company ranked #415 by Fortune, about the impact of my coaching for her:
· "I really like your coaching style. You ask meaningful questions without 'leading the witness.' It's a great fit for executives."
Here's a recent testimonial from Leon Vliegen, Owner, FLY Consult, about the impact of this course for him:
· "It was a great learning experience and I can apply a lot of the concepts and thinking in my coaching practice and leadership programs that our organization FLY Consult performs for a number of clients. I and we focus strongly on helping people to make mindful and effective decisions. This program has deepened and broadened my knowledge and insight in an excellent way. Dr. Gleb Tsipursky is clearly at the edge of this field of science and practice. I can recommend the program strongly."
Here's another recent testimonial by Susan Winchester, the Chief Human Resource Officer at Applied Materials, a Fortune 200 high-tech manufacturing company:
· "Hi, I'm Susan Winchester, and it's my delight and pleasure to tell you a little bit about our experience with Dr. Gleb. He had a big positive impact at Applied Materials. Our leaders and engineers love data-based, research-based insights, which is exactly what he brings. He hit it out of the park, and he used a team led process, which was incredibly engaging. He introduced us to a concept he created called asynchronous brainstorming. It was a process we used with hundreds and hundreds of leaders globally at the same time. We did this during our CEO kickoff session for our strategy work. In a very short amount of time, we were able to get great benefits. I also love the work he's doing to educate leaders around the power and positive benefits of hybrid and virtual working. And one of his techniques that I'm planning to use is what he calls "virtual coworking", where you and as many coworkers as you'd like create a virtual meeting, no purpose or agenda, but rather just to be working with one another. I highly endorse Dr. Gleb's work with leadership teams."
This course has received International Coaching Federation (ICF) approval for 12 continuing coaching education (CCE) credits, including 5 core competency credits and 7 resource development credits (Resource Development includes training formerly called Personal Development, Business Development, or Other Skills and Tools).
ICF Core Competencies Covered in the Course
Creating awareness in analytically-minded people of their emotions and situations when their analytical mindset may be causing them problems
Direct communication with analytically-minded people, balancing hard data and research with than stories and questions
Establishing trust and intimacy, through using the kind of evidence that's convincing to analytically-minded people
Active listening, to determine whether someone's learning style is deductive or inductive and targeting their specific information consumption needs
Establishing the coaching agreement, focusing on preparing for the almost-inevitable conflicts and addressing emotions
Sounds too good to be true? I used these methods successfully at Fortune 500 companies such as Aflac, Applied Materials, Entergy, Honda, IBM, Reckitt, Wells Fargo, and Xerox. Over the last two decades, I coached and trained the leaders at these Fortune 500 companies, as well as at numerous middle-market companies and quickly-growing startups, as the CEO of the boutique future-proofing consultancy Disaster Avoidance Experts.
Besides such real-world, pragmatic expertise, I have a strong academic background as a behavioral scientist studying analytical thinking, coaching, decision making, and emotional and social intelligence. I spent 8 years at the University of North Carolina at Chapel Hill, first getting a PhD and then serving as a lecturer there. Then, I spent 7 years as a professor at the Ohio State University's Decision Sciences Collaborative and History Department. There, I published dozens of peer-reviewed articles on this topic in high-quality academic journals such as Behavior and Social Issues and Journal of Social and Political Psychology. Thus, this course is thoroughly informed by cutting-edge research.
This combination of business and science led to my expertise gaining global recognition. I published over 650 articles and gave over 550 interviews to prominent venues. They include Harvard Business Review, Fast Company, Fox News, USA Today, CBS News, CNBC, Time, Business Insider, Government Executive, The Chronicle of Philanthropy, Inc. Magazine, and Fortune.
Further attesting to my global renown, my work was translated into Chinese, German, Russian, Korean, Polish, Spanish, French and other languages.
That's what you can expect in this course: methods used successfully at even the biggest companies, thoroughly informed by cutting-edge research, and featured in top media venues and best-selling books around the globe.
Course Content and Structure Overview
The course is self-paced, consisting of modules which the participants can complete any time they want.
For each module, participants in the course will first read book chapters from the textbook. Then, participants will answer questions in the book chapters. Each chapter has references for additional readings that participants are invited to check out for additional context on any concepts about which they wish to learn more.
Next, participants will watch the video for each segment, which uses case studies to apply the content of the readings to real-life scenarios.
After each video, the participants should journal for 20-30 minutes to answer the questions in the prompts.
I look forward to welcoming you into the world of evidence-based, science-driven techniques tested in the real world of many Fortune 500 companies and numerous middle-market companies and startups. To ensure that you master decision making and analytical and coaching thinking best practices drawn from behavioral science and tested in Fortune 500 companies, register now!
English
language
Content
Decision making and analytical thinking: Introduction and textbook packet
Decision making and analytical thinking: Introduction
Decision making and analytical thinking: Course and textbook packet
Decision making and analytical thinking: Systems of thinking
Decision making and analytical thinking: Systems of thinking
Decision making and analytical thinking: False beliefs about oneself
Decision making and analytical thinking: False beliefs about oneself
Decision making and analytical thinking: False beliefs about others
Decision making and analytical thinking: False beliefs about others
Decision making and analytical thinking: Communicating ethically
Decision making and analytical thinking: Communicating ethically