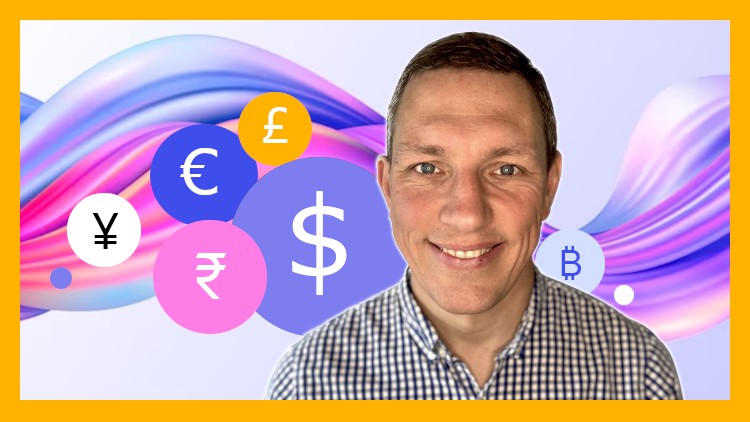 Guide to Budgeting, Investing, Saving, and Achieving Financial Freedom. Learn simple experience based practices.
What you will learn
Calculate and set 5 most important financial goals in your life.
Budgeting: How to create and stick to a budget that aligns with your financial goals
Saving and Investing: Different types of savings and investment options, how to choose the best ones for your goals and risk tolerance
All core concepts related to personal finance: inflation, cost of money, active & passive assets, hedonistic adaptation…
Easy personal finance tools that anybody can make using Google Sheets & Microsoft Excel
Evaluate whatever is it better to rent or to buy a house. Hints how to buy a house cheaper.
Evaluate whatever your car or house are too expensive for you.
Retirement: how to create your retirement nest-egg, how to avoid outlivng your money?
Early retirement extreme practices: how to retire as early as being 35?
Debt, insurance and taxes: basic understanding and best practices
Pitfalls & hacks: biggest personal financial mistakes, useful mind tricks, getting into millionaire psychological mindset
Learn how to adjust your spending in order to get more happiness out of your money.
Description
Are you ready to take control of your financial future? Welcome to "Complete Personal Finance Course: Earn, Save and Invest" – your ultimate guide to achieving financial freedom.
Whether you're drowning in debt, struggling to save, or simply seeking to maximize your income, this comprehensive course is designed to equip you with the necessary tools and knowledge to make informed, effective financial decisions. No prior experience or understanding of finance is necessary – we'll start from the basics and work our way up.
In this course, we'll cover:
';
}});
Budgeting and Expense Management: Learn how to set up a realistic budget, track your spending, and reduce unnecessary expenses.
Debt Management: Understand different types of debts and explore effective strategies to reduce and eliminate them.
Saving and Investing: Discover the power of compound interest and learn how to start investing in stocks, bonds, and mutual funds.
Retirement Planning: Start planning for the future today by understanding retirement accounts like 401k, IRA, and Roth IRA.
Insurance and Risk Management: Protect your assets and learn how insurance can help manage financial risks.
Tax Planning: Understand how taxes work and learn strategies for tax-efficient investing.
By the end of this course, you will have a solid understanding of personal finance principles, enabling you to make smart financial decisions that align with your life goals. You'll gain confidence in managing your money and will have the foundation to build wealth over time.
Whether you're a recent graduate, working professional, or nearing retirement, the strategies and insights provided in this course are valuable at any stage of your financial journey.
Invest in yourself today and enroll in "Complete Personal Finance Course: Earn, Save and Invest". Your future self will thank you!
Introduction
Technical information
Why we need personal finance?
Course syllabus
Recommended and referenced books
Core concepts
Asset or liability
Rat race, hamster wheel
Cost of money
Inflation
Power of compounding interest
Must-haves vs nice-to-haves
Hedonistic adaptation
Homework
Budgeting
Why to budget, how to start?
Major parts of expense tracking
Expenses tracking example in Google sheets
Benchmarking your expenses
Budget split recomendations
Budgeting example in Google sheets
Ideas for improvement
How much my car should cost?
How much my house should cost?
How much to save, how much to spend?
Strategies for sticking to a budget
Setting financial targets
Example of financial targets with Ms Excell
Homework
Personal finance mistakes & pitfalls
Most popular mistakes & pitfalls. Part 1
Most popular mistakes & pitfalls. Part 2
Homework
Debt management
Debt types, what is toxic debt?
How to get rid of debt?
Homework
Insurance
General knowledge about insurance
Insure or not?
Homework
Investing
Intro & Most popular investing vehicles
Total returns of 3 major asset types
Investing vs speculation
Investing and risk. Part 1
Investing and risk. Part 2
Myths, truths & paradoxes
Compounding & diversification
Fees matter
Final recommendations
Homework
Real estate (house, apartment, …)
Renting: a rational choice
Total real estate returns
Total mortgage cost
Comparing renting and buying. When buying is rational?
Location, location, location?
How much my house should cost?
Additionally: Inflation, Paradoxe, Secondary home, House flipping
Homework
Retirement
Size of your nest-egg, when to retire?
Important: no debt, inflation, sequence of returns
Sequence of returns example in Ms Excell
Important: start saving early, taxes
Mistakes about retirement, Die with zero
Homework
Early retirement extreeme
Intro to ERE (Early Retirement Extreme)
ERE calculations about retirement and one million
ERE how to strategy: Part 1 – house, transportation
ERE how to strategy: Part 2 – food, clothes, hobbies
Homework
How to earn more?
How to loose a fortune, how to earn a fortune?
How to increase your income? Real ticket out of jail
Cashflow quadrant
Homework
Useful mind tricks & hacks
Psychology + 15 Tips & tricks: Part 1
15 Tips & tricks: Part 2
Homework
Taxes
What you need to know about taxes
Homework
Money and happiness
Money and happyness
Homework
Summary & congratulations!
Summary & congratulations!