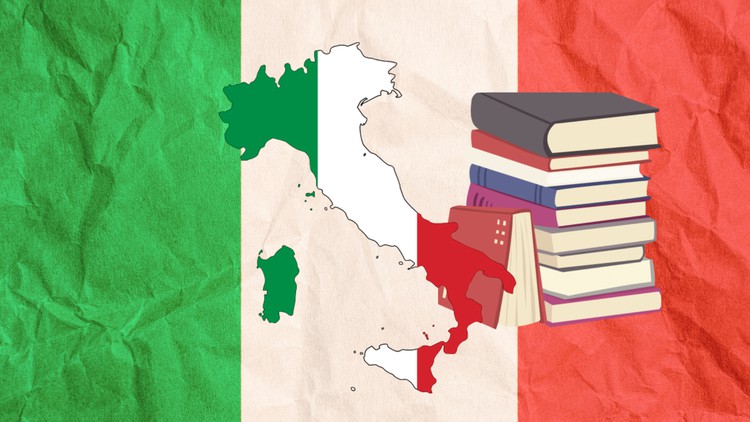 Grammar Fundamentals, Real conversations, Common life dialogues, Travel dialogues, Numbers, Lot of exercices included!
What you will learn
1000+ new vocabulary words used everyday
Proper Italian pronunciation repeated several times
How to create basic sentences
You will learn how to deal in the most important everyday situations
You will master Italian dialogues and phrases that can be used on a daily basis
Read and write in Italian
Basics of Italian grammar
Description
Through this course you will learn as fast as possible Italian mastering the grammar basics as well as learning more than 1000 words alongside their correct pronunciation!
During this course you will learn, in a very complete and interactive way, how to speak and create sentences from scratch for different real-life situations.
In particular, in the first section of this course you the grammar basics are explained. The most important rules are included and explained as well. A complete explanation is provided making also differences between English and Italian languages in order to make the learning much easier and more understandable.
Furthermore, an entire lecture about numbers and how to read is provided. The third section is about verbs, in particular the verb To Be and To Have.
At this point, the next lectures are more interactive and the approach used is Dialogues-based. In other words, dialogues related to real life situations are provided alongside their translation. During such lectures the teacher will read both the English and Italian dialogues in order that the students will practice with the pronunciation as well as they will learn both such sentences and the words that they include.
Moreover, you will be able to learn how to create Italian sentences using REAL EXAMPLES. This approach will make your learning EASIER and FASTER! Additionally, for each dialogues-based lecture an entire lecture about the nomenclature (related to the topic of the previous lecture) is provided. Through these lectures you will learn the correct pronunciation and you will practice with the teacher your pronunciation.
Finally, a small exercise-book is provided with solutions too!
What are you waiting for? Let's learn Italian with US!
English
language
Content
Introduction & Grammar Basics
Introduction
Teaching Approach & Course Outline
Singular and Plural
Articles
Pronouns
Numbers
Numbers from 0 to 100
Verbs
Verb to BE
Verb to HAVE
Travelling
Public Transport
Nomenclature: Public Transport
At the Customs
Nomenclature: At the Customs
On Holiday
At the Hotel
Nomenclature: At the Hotel
At the Restaurant
Nomenclature: At the Restaurant
At the Supermarket
Nomenclature: At the Supermarket
At the Bar
Nomenclature: At the Bar
Services and Emergency
At the Doctor and Hospital
Nomenclature: At the Doctor and Hospital
At the Farmacy
Nomenclature: At the Farmacy
At the Police Station
Nomenclature: At the Police Station
Social Relations
Greetings and Polite Conversation
Additional Exercices with SOLUTIONS!
Exercices
Solutions