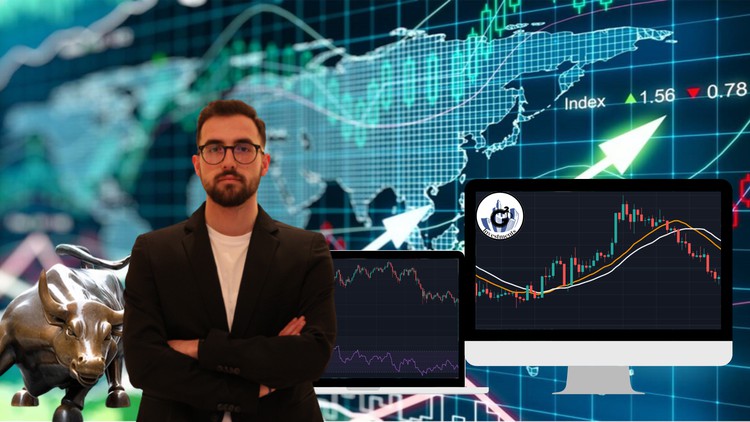 Stock Trading, Derivatives, Forex, Cryptocurrencies, Commodities, Technical Analysis, Bonds, Finance, Real Examples
What you will learn
Learn the basic of financial assets
Learn how to manage and use the main financial indicators
Learn how to read a financial asset trading graph
Learn how to interpret with real life examples the main techical indicators for trading
Description
Through this course you will master the basics of financial assets as well as of the Technical Analysis approach in trading.
You will learn how to trade efficiently with all the instruments. In the first section of the course an overview of what is the stock market as well as what are financial assets is provided. Moreover, a complete explanation of what is the Bid & Ask spread as well as the Order Book is provided. It will be also explained how to use both the Spread and the Order Book for trades. Furthermore, an introduction on the main financial instruments (Derivatives, Stocks, Commodities, Bonds, Cryptocurrencies) is provided. It is also explained how to use, where to buy and why you should buy such financial assets in different situations. Additionally, a complete explanation regarding the candlesticks and bearish and bullish patterns is provided to the students, who will learn to identify and use them in trading efficiently. Moreover, a pure technical analysis section is provided where the main indicators are explained both from a theoretical and practical way with REAL EXAMPLES in the so-called "live sessions". Moreover, an overview of the useful platforms is provided. Students on such FREE platforms can improve their financial and trading knowledge every day.
English
language
Content
Introduction and Basic
Introduction
Course approach & Outlook
What is the Stock Market?
What is a Broker?
What are Financial Assets?
Bid & Ask Spread
Introduction Recap Quiz
Financial Assets
What are Stocks?
What are Derivatives?
What are Commodities?
What are Bonds?
What are Cryptocurrencies?
Financial Assets Quiz
Technical Analysis
What is a Candlestick?
Types of Candlesticks in Trading
Bullish Candlestick Patterns
Bearish Candlestick Patterns
Candlesticks Recap Quiz
What are Support & Resistance levels?
Practice 1: How to find Support & Resistance levels on REAL charts
Moving Average Indicator
Exponential Moving Average Indicator
Practice 2: How to set up and use in trading MA and EMA with REAL examples
Relative Strength Index (RSI) Indicator
Practice 3: How to set up and use in trading RSI with REAL examples
Bollinger Bands ® Indicator
Practice 4: How to set up and use in trading Bollinger Bands® with REAL examples
Technical Indicators Recap Quiz
Useful Platforms
Finviz.com
Investing.com
TradingView
Bonus Section
Bonus Lecture