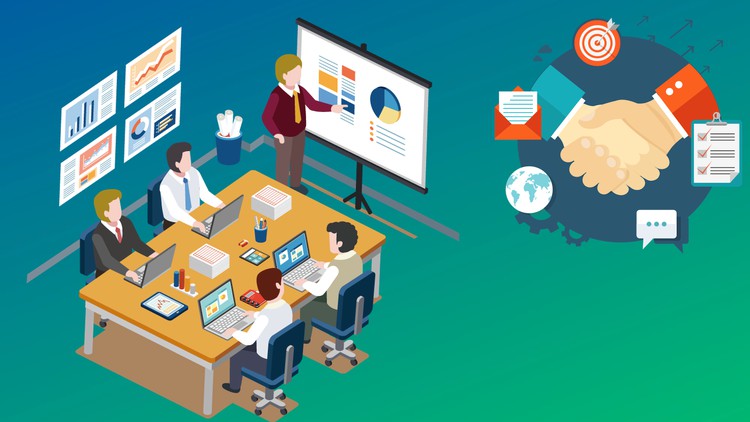 Learn all Phases and Practice the Customer Success Management(CSM) Framework
What you will learn
Understanding Outcomes and KPIs
Practice all 7 Phases of Practical CMS
Prepare for your Customer Success Manager interview. We won't go into interview skills, but we'll learn more about Customer Success.
Understand the basic principles of Customer Success. This is the cornerstone of your career as a CSM.
Show interviewers that you know your customers' success better than anyone
Gain a better understanding of what it's like to work as a Customer Success Manager
Help your customers realize the value of your solution and achieve business outcomes
Gain practice and confidence to accomplish key tasks using best practice tools and methods
Description
This course also helps students prepare for the Customer Success Manager certification. This course focuses on developing the knowledge, skills, and abilities that prepare students for CSM roles and giving them the confidence to fill the role. A particular focus of this course is to provide students with opportunities to expand their real-world experience in a safe environment using hands-on exercises and role-plays.
Here you will practice all 7 phases of the  CSM Framework  contained within three stages.
A. Initial Stage
The early stages of an engagement are about getting things ready – primarily getting oneself ready as the CSM to be useful and relevant in the context of the customer's needs and desires and getting to know the customer's key stakeholders, as well as reaching an agreement on the types of ways the CSM will be able to help the customer with their journey towards value realization
Phases within the Initial Stage:
Phase 1: Preparation
Phase 2: Commitment
B. User Readiness Stage
The user readiness stage is all about helping the customer prepare their users to be able to fully adopt and use the solution they have purchased. This includes both the initial onboarding of products and services and then moves into full scale adoption, which in turn readies the customer to commence solution utilization.
Phases within the User Readiness Stage:
Phase 3: Onboarding
Phase 4: Adoption Planning
Phase 5: Adoption Implementation
C. Ongoing Stage
The final stage is ongoing in the sense that it continues on into the future for as long as the customer continues to use the solution. This stage takes over as soon as adoption is completed and ensures that maximum value is continually generated, measured and reported on. At intervals during this stage the CSM will take stock of the engagement and determine what has gone well, what could have gone better and what has been learned for future engagements
Phases within the Ongoing Stage:
Phase 6: Value Realization
Phase 7: Engagement Evaluation
Because CSMs work directly with customers, they have the opportunity to make a significant impact on their customer base. They act as personal cheerleaders for your business, explaining to customers why you can meet their particular needs. It will also give you a reason to recommend it.
Onboarding new customers.
Onboarding is one of CSM's top priorities. That's because educating customers on how to use your product is very important. Onboarding should focus on the features you need to learn based on the projects you want to complete. This way, they can be up to date as quickly as possible and be one step closer to their goals.
Track updates.
A CSM's job is to create loyal repeat customers, not one-time users. This is why extensions are so important for this position. CSMs must track customer product expiration dates monthly, quarterly, or annually and contact customers to renew contracts. Without tracking, you run the risk of potential churn and impacting customer retention.
Encourage upselling and cross-selling.
Upselling and cross-selling are another way to increase customer lifetime value. CSM is dedicated to achieving customer goals and creates opportunities to introduce premium products and services. If the customer is a good candidate for an upgrade, the CSM can meet with the customer and explain why the additional purchase would be beneficial. Because CSMs have relationships with their customers, they are more likely to trust your team's advice.
Build relationships with customers and support teams.
There are some customer questions for which CSM is not responsible. Technical issues, minor product issues, and basic business questions should be directed to our customer support team. The CSM should facilitate customer support relationships and make it easier for users to resolve minor or short-term issues.
Be the voice of the customer.
As a customer-facing person, the CSM should feel a responsibility to advocate for their needs. You need a deep understanding of your customers' likes and dislikes about your product, which can be discovered through surveys, reviews, recommendations, and more. The CSM should organize, analyze, and share this information with other departments to ensure that the organization's decisions always keep the voice of the customer in mind.
English
language
Content
An Overview of the Customer Success Manager's Role
What is Meant by "Customer Success"?
Treating Your Customer as Your Business Partner
Where do CSMS fir Within the Wider Organizational Structure
Readiness for Customer Success Management
What is Your Organization's Customer Success Strategy?
What is Your Role to Your Organization's Customer Success Strategy
What Assets and Resources are Available to Help You?
How Will You Plan and Manage Your Time?
Customer Success Management Tasks, Tools and Techniques
The RAPAE Task Model – A Way to Categorize CSM Activities
Understanding the Critical Path
Getting in Front of Senior Management and "C" Level Customer Stakeholders
Practical CSM Framework Phase 1: Preparation
What is Phase 1: Preparation.
Accessing Information
Internal Handover
Customer Information
Initiative, Information and Customer Outcome Requirements
CSM Outcome Requirements
Third Parties and Project Status
Tools for PCSMF Phase 1: Preparation
Practical CSM Framework Phase 2: Commitment
What is "Commitment" All About?
Communicating with the Customer
Developing a Stakeholder Management Strategy
Practical CSM Framework Phase 3: Onboarding
What is PCSMF Phase 3: Onboarding All About?
Generic and Customized Onboarding Models
Information for Onboarding
Tools for PCSMF Phase 3: Onboarding
Practical CSM Framework Phase 4: Adoption Planning Part 1: Concepts
What is Adoption All About?
Understanding Impacted Users
Research Techniques
CSM Involvement in Adoption Research
Practical CSM Framework Phase 4: Adoption Planning Part 2 – Implementation
Step 1: Determine Adoption Requirements
Step 3: Create Impacted Groups
Step 5: Determine Communication, Training and support Requirements
Step 6: Capture Adoption Barriers and Risks