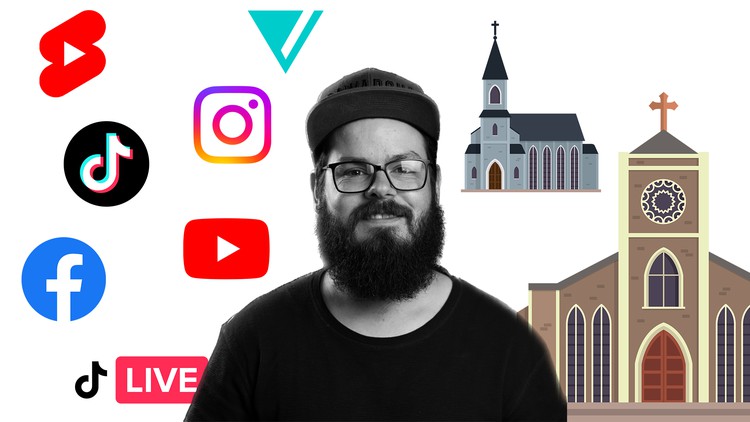 Helping you Create Compelling Digital Content for Church Outreach, Engagement, and Discipleship. Social media for church
What you will learn
Understand the importance of creating engaging and relevant content for a church audience.
Develop skills in researching and planning content ideas.
Learn how to effectively use various content creation tools, such as graphic design software, video editing software, and social media platforms.
Understand how to measure the success of content and make data-driven decisions to improve future content.
Description
In this course, you will learn how to create effective and engaging digital content for your church. We will cover a range of topics, including how to identify your target audience, plan and produce content that resonates with them, and use social media and other online platforms to reach a wider audience.
We will also delve into the principles of digital discipleship and how to use your digital content to foster deeper connections with your community and support spiritual growth.
By the end of this course, you will have the skills and knowledge needed to create compelling digital content that helps your church connect with and serve its members, as well as reach out to new people. Creating content is one thing, but implementing effective systems and content generation strategies will give you longevity in constantly producing meaningful and impactful content.
The course layout is:
';
}});
1. Introduction to Content Creation in a Church
Definition of content creation
Effective content creation is crucial for churches
There are many types of content you can create (e.g. social media posts, blog articles, newsletters, videos, etc.)
2. Understanding the Church's Audience
Identifying the church's target audience
Understanding the preferences, needs, and interests of your target audience
Create content that resonates with your target audience
3. Developing a Content Strategy
Set goals for the church's content
Identifying the themes and topics that should be covered in the church's content
Plan a content calendar
How to determine the frequency and format for content
4. Examples and Guidelines for Churches
Example of a job description
A monthly posting calendar
Ad matrix for ad campaigns
Master Links file for systems management
Introduction to Content Creation in a Church
Welcome to Content Creation!
What is Content Creation?
Effective Content Creation is Crucial for Churches
Ways to be Effective
Digital Discipleship
Section Wrap Up
Understanding the Church's Audience
Identifying the Church's Target Audience
Developing a Content Strategy
Developing a Content Strategy
Examples and Guidelines for Churches
A common job description example
Example of a content posting calendar
Churches to consider for inspiration
Main database and systems template
Example of posting guidelines
Ad Matrix sample of feedback and analytics
A simple light to get you started
Example 1 of a short teaching on social media
Example 2 of a short teaching on social media
Example 3 of a short teaching on social media
Example 4 of a short teaching on social media
Example 5 of a short teaching on social media
Example 6 of a short teaching on social media