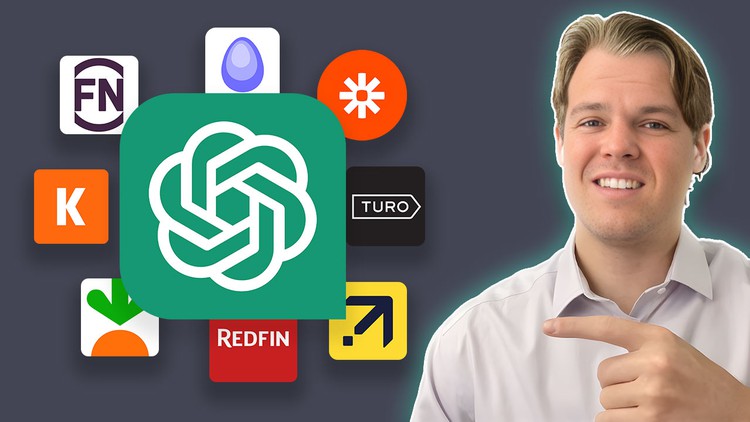 Mastering Customization: Harness the Full Potential of ChatGPT with Plugin Integrations
What you will learn
Master how to integrate ChatGPT with various platforms using plugins.
Understand how to troubleshoot and debug common plugin issues.
Learn to leverage ChatGPT plugins for business, education, and entertainment.
Gain insights on best practices and ethical considerations for AI integration.
Explore advanced use-cases for plugins, including data analysis, content generation, and automation tasks.
Description
Maximize AI Capabilities: The World of ChatGPT Plugins
Learn how to streamline processes, increase efficiency, and drive growth for diverse applications.
Includes: 12 Lessons, Optimized AI Prompts, & More!
Comprehensive coverage: The course covers everything from the basics of using ChatGPT Plugins to advanced techniques for fine-tuning and customizing the model to suit specific use cases.
Hands-on learning: The course includes interactive exercises and real-world examples to help learners apply their knowledge and build practical skills.
Expert instruction: The course is taught by experienced practitioners who have a deep understanding of ChatGPT Plugins and its capabilities.
Up-to-date information: The course is based on the latest version of ChatGPT and covers the latest techniques and best practices for using the model.
Flexibility: The course is available online, so learners can access the material at their own pace and on their own schedule.
Are you ready to explore the full potential of AI language models? ChatGPT is more than just a chatbot—it's a versatile tool that can be customized to fit a myriad of applications, thanks to the power of plugins. Our comprehensive online video course, "ChatGPT Plugins: Unleash the Power of Integration," is designed to help you leverage this potential, whether you're a developer aiming to enhance your product or a business owner looking to optimize operations.
English
language
Content
Essential Foundations
Must Watch: Discover Essential Resources and Tips
Guide to ChatGPT Plugins: Top Plugins for Enhanced Interactions
ChatGPT + Plugins Tutorials
ChatGPT Zapier Plugin Integration & Automation
ChatGPT KAYAK Plugin Integration & Planning Your Trip
ChatGPT FiscalNote Plugin Integration & Global Policy | Tutorial
ChatGPT Instacart Plugin Integration & Ordering Groceries | Tutorial
ChatGPT Expedia Travel Plugin Integration & Planning Your Next Trip
ChatGPT Shopify Shop Plugin Integration & Search Millions of Products
ChatGPT Ambition Plugin Integration & Search Millions of Jobs Near You
ChatGPT Turo Plugin Integration & Renting a Car
ChatGPT Redfin Plugin Integration & Finding Your Next Home
ChatGPT Speak Plugin Integration & Learning a New Language