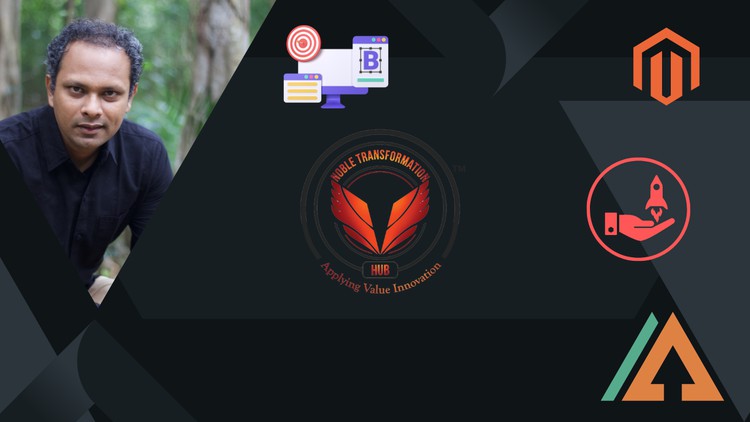 With Real Time Case Study and Case Method
What you will learn
You will get a complete perspective of the Branding design process which is followed in the industry which comprises
I have also taught the importance of branding design in India and how much job vacancies created
Also this course has live examples of real time case study of MHS honey brand
long with the mappings many realtime photos and videos of the market scenes and direct interview with the dealer
Detailed interaction with customer for knowing the brand's mission, vision
Description
About  the Master Class:
This course is about the Branding design and the step by step process of creating brand identity and visualisation of brand elements through a real time case study.
In particular the case study is the direct customer interaction project where we worked for a brand called MHS Honey and made a design learning based on the outcomes of this project.
As I used to say in my design courses, that design cannot be learned in the rot learning way or Text book learning way that you learn through a chapter and remember some formulas that will yield you some solutions. Design is unique and when different people approach the same we will get different solutions based on the inputs that designer works on.
So design can be approached in the way of learning through the case studies and by doing action on your own to learn yourself.
Learning by doing and learning by action.
Benefits of the Master Class:
You will get a complete perspective of the Branding design process which is followed in the industry which comprises of Research, ideation, strategising and conception, I have taken all the nuances in detail about how to carry out the process step by step and also you can hear my practical experiences about it
I have also taught the importance of branding design in India and how much job vacancies created and the importance of the skill set needed for getting selected as brand Designer for any corporates or start ups.
Also this course has live examples of real time case study of MHS honey brand for what we made a branding design project and ID design of a container and graphics and visual design of Logo, Label design and posters for the same.
Breakdown of each steps of branding design aspects like;

Determine Current Brand
Competition Study
Mapping & Identifying USP
Product Differentiators
Feedback with customers

Along with the mappings many realtime photos and videos of the market scenes and direct interview with the dealer and shipowners insights has been shared and discussed in detail.
Detailed interaction with customer for knowing the brand's mission, vision and values systems it is possessing and unique differentiators what the customer has in his mind.
SWOT Analysis of the brand positioning and various permutation and combinations for cost, taste, nutrition value and availability was discussed in detail.
Sensitisation for the Typeface identification for each brand, how to choose the typefaces, colour for each logo, typefaces and Label designs based on the brand identity is discussed in detail.
How a designer should have a perspective of retail design model proposal for customer, cost circulation and economy understanding in which our entire design decisions depend on these basic aspects, which sometimes designers don't see or miss out in their design inout study.
Visualisation skills like sketching, 3D modelling and Rendering were discussed in detail.
English
language
Content
Introduction
Introduction
Why Branding Design is important ?
Why Branding Design is important ?
Design Process
Design Process
Determining current brand
Determining current brand
Competitor study
Competitor study
Mapping USP over competitors
Mapping USP over competitors
LOGO, typeface Design for branding design
LOGO, typeface Design for branding design
Label Design
Label Design
Bottle packaging Design
Bottle packaging Design
Retail experince.
Retail experince.
Further steps in Project
Further steps in Project
Recap Learnings and Conclusion
Recap Learnings and Conclusion