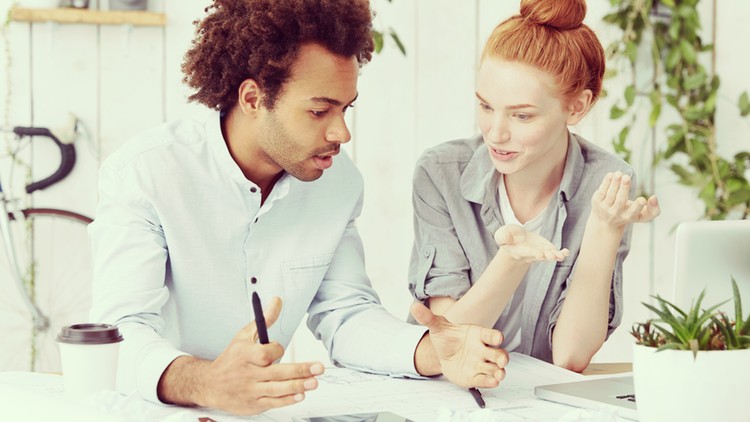 Body Language Skills for a High Tech World
What you will learn
Come across as comfortable, confident and relaxed in any work setting
Display excellent body language in the workplace
Come across authoritative on Skype video, TV and other on-camera work opportunities
Exude leadership when speaking and presenting
Description
Body language in the workplace has never been more important, more complicated or more confusing. TJ Walker, a world class presentation skills and body language expert to executives around the world, is here to guide you on how to handle yourself(and your body) in every workplace situation.   
 Body Language in the Workplace 2018 reflects the modern reality that executives and workers need to convey comfort and authority not just in face-to-face meetings and presentations, but also in on-demand and live video communications on Skype, Facetime, YouTube, Zoom, WebEx and other platforms.
This body language course will give you all the tools you need to interact with customers, clients, colleagues and bosses in the modern workplace.
You will never need to feel awkward or uncomfortable in the workplace again.
You can look and feel as comfortable conducting a meeting on Skype video or giving a keynote presentation as you are talking to your best friend.
Note: This course will not peddle you the same old tired (and fake!) clichés about body language being 93% of communication. It will teach you have to use effective body language, combine with your other job skills, for maximum positive career impact.
What will students achieve or be able to do after taking this course?
Come across as comfortable, confident and relaxed in any work setting

Display excellent body language in the workplace

Come across authoritative on Skype video, TV and other on-camera work opportunities

Exude leadership when speaking and presenting
Here is what Udemy students say about this course:
"This is amazing. Everyone should go for it" Megha Garg
"Yes it is an amazing course delivered by a very knowledgeable and experienced person.." Rahil Babariya
"Great content regarding body language and public speaking. Learned many new things from this course. :)" Harshil parekh
Please note: this is a body language communications course conducted by a real person who is speaking and demonstrating communication skills. If you are looking for a course with lots of animation, slides, special effects, slick edits, and robotic voices, this course is not for you.
This Body Language course is ideal for anyone searching for more info on the following: body language – body language in the workplace – micro expressions – self confidence – body language: appear confident and poised when you speak – read body language language – body language appear confident – confidence. Plus, this course will be a great addition to anyone trying to build out their knowledge in the following areas: nonverbal communication – lie detection – social skills – microexpressions.
English
language
Content
Mastering the Fundamentals of Body Language
Quick Wins – You Will Look Your Best on FaceTime, Skype, Facebook Live
Never Let These Two Classic Body Language Blunders Slow You Down
The Ultimate Tricky Body Language – Touching
Big Picture – Make Everyone You Work With Feel Comfortable Working With You
Your Nerves Will Never Show Again in the Workplace
Assignment: Testing Your Communication To Make Sure It Works
Exciting New Update to this Course
You'll Never Fall for These Body Language Myths Again
Here Is Exactly What to Do With Your Hands
Course Update! Live Instructor Office Hours are Now Available
Body Language for Every Specific Situation In Your Workplace
The Composed, Confident Video Star
Never Spotlight Your Blunders and Mistakes Again
You are Now Ready for Prime Time TV
The Number 1 Tip for Curing Body Language Problems Is…
The Real Way to Improve Your Body Language Confidence
Great Body Language for Your Presentations
PowerPoint Will Never Turn You Into a Robotic Bore Again
Confident Briefing to Colleagues and Others
Keynote Speeches Will Showcase Your Calm and Confidence
Use a TelePrompTer Like a Network News Anchor
Networking Like a Pro, Not a Wall Flower
A Few Other Body Language Workplace Issues to Keep in MInd
Handshakes, Greetings and Hellos with Poise
Once Last Chance for a Body Language Personal Critique….
Making Sure Your Clothes Are Communicating Your Positive Story
Your Body Language Partner – The Friendly Spotter
Conclusion – Body Language Success for the Rest of Your Career
Time to Give TJ a Piece of Your Mind
Conclusion – Congratulations – You are Now Master of Your Own Body Language
Final Bonus Lecture re Future Courses and Learning Opportunities