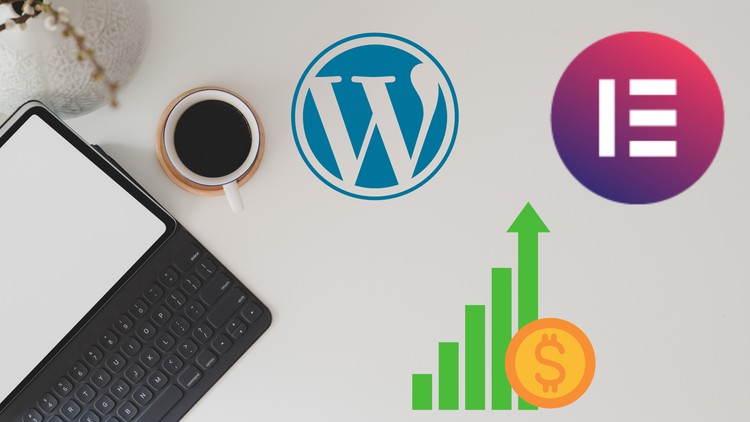 Make WordPress websites in 20 min & Find International Clients to Start 6 Figure Web Design Business with Course 2022
What you will learn
Build any Business Website in 20 Minutes
Find High Paying WordPress Clients
Enhance your Productivity as a Freelancer
Scale Web Design Business from Home
WordPress for making Money Online Using drop servicing business Model
Description
In this course, you will get to know about all the tools required to build beautiful websites and all the skills required to become a Successful WordPress Freelancer and start a successful Web Design Business in 2022.
I will be sharing with you my Practical experience in creating business websites very easily using WordPress & Elementor which are mobile-friendly as well as SEO friendly and it's never hard to design those websites.
But this skill without clients is nothing. So I will also be sharing with you my super-secret strategies that how you can get clients as freelancers from Google and some other sources other than freelance marketplaces because I have never used a marketplace to make a single penny and would never use it but will tell you what I did and what you should to get high paying clients.
You will learn, how you can create multiple types of business websites using one WordPress theme and with one simple technique and how you can make it super faster. Not only that but then how you can find the clients you would be working for.
So If you are seriously interested in making money online very easily, then you should give this course a bit because this course is short but all in one containing super headings and insights that how you can make money from home easily just by finding clients and creating and recreating websites for them using WordPress, Elementor and Rishi WordPress Theme.
This course gives you the exact behind-the-scenes strategy that Khadin Akbar has employed to build a highly profitable home-based WordPress web design agency business 2022.
So, what are you waiting for? Enroll today and start your journey as a Successful Six-Figure Website Design Business in 2022.
If you are one among these, then this is the right course for you:
WordPress Developers
Web Design Students
House Wives
Low-salaried employees who are looking to have a secondary source of income for extra earnings
For anyone who is willing to start a home-based Web Design Business
GOOD LUCK BUDDY!
English
language
Content
Course Overview
What's Inside Course?
Become Pro WordPress Developer
What's Inside Chapter?
Important Resources
Get Free Domain Name & Web Hosting
Get Premium WordPress Theme for free
Create Any Business Website using Rishi & Elementor
Add Advanced Website Customization Options
Add Widgets to your Website
Add Website to Google Search & Analytics
Find High Paying Web Design Clients for Free
What's Inside Chapter?
Get Clients from YouTube
Get Web Design Clients from Google
Get Web Design Clients from Classic Search Engine
Get Web Design Clients from Agencies
Productivity Hacks For Freelancers
What's Inside Chapter?
Send & Track Mass Emails
Book Appointments
Outsourcing Guide
THANK YOU
Get Rishi Theme