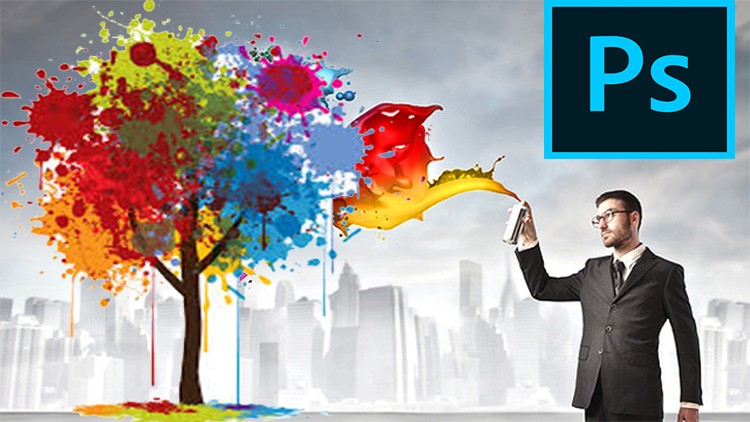 What you will learn
Practical Real-Life Lessons That Are Essential For Everyone
Making Any Types Social Media Post Graphics
Basic Photo Retouching That Are Important For Everyone
Create Any Social Media Channel Art/Cover Photo
Design Logo With Photoshop
Make Business Card With Adobe Photoshop
Create An Animated Gif In Adobe Photoshop
Make A Quiet T-Shirt In A Simple Way
Create 7 Different Real World Practical Projects That Can Be Used To Help Your Brand Or Business
Description
In this course you will Learn 7 Types Important Work Of Adobe Photoshop With Step-By-Step Video Tutorial for your brand or business or for your personal use!
· This course is actually for anyone because this course provides 7 Essential practical projects
· Do you want to create your own social media graphics, business card, logo or something but you have no idea that how to use Photoshop or don't know where to begin?
· Do you want to control over of your branding but don't have enough time to learn the whole Photoshop?
· Have you already spent lot of time and energy for Photoshop tutorial but it never cover what you exactly need?
· Do you wants to Learn Design
If you answered yes to any of these questions, you're in the right place!
I will guide you every step of the way and are here to make sure you succeed in your ventures. I hope you are enjoying the course. Please contact me anytime for additional questions/support. I'm always here to help you to achieve your learning goals and looking forward to your success. Because I believe that Your Satisfaction is My Success. So, stay connected for your best result.
Now, go ahead and click the enroll button, and I'll see you on the inside!
English
language
Content
Course Introduction
Promo
Welcome For The Best Decision
What Is Adobe Photoshop & How to Get It
Making Social Media Post Graphics
Introduction & Create Document
How to Add Text
How to Adjust Image
Export Photo To Get Final Output.
Create Social Media Channel Art Cover Photo
Section Intro
Use Our Template File and Adjust It
Add Text & Upload Your Design
Make Other Similar Social Media Cover & Upload
Basic Photo Retouching
Section Intro
Remove Spots In Simple way
How To Dismiss Object Perfectly
How To Do Color Correction Very Quickly
Remove Background In Perfect Way
Replace Background In Very Easily
Design Logo With Photoshop
Introduction & Create Document
Draw A Circle As Our Need
How To Find Icon & Place That
Put Appropriate Logo Text
Export Your Logo With Transparent Background
Finishing Touches Of This Section
Make Business Card With Adobe Photoshop
Introduction & Create Project
Put Text As Your Need
Add Appropriate Icon For Business Card
Build Shape With Pen Tool
Finishing Touches Of Business Card
Create An Animated GIF In Adobe Photoshop
Create Project And Place Video In Photoshop
Processing GIT Project As Our Need
Finishing Touches Of GIF Project
Make A Quiet T-Shirt In A Simple Way
Introduction And Make Document
Attach Text And Re-positioning Them
Use Shape Tool In Design
Finishing Touches Of This T-Shirt Design
Conclusion
Congratulations on the finished course!
Bonus & Update Section
Bonus
Find Lots Of Royalty-Free Icons Collection
Have Lots Of Royalty-Free Vectors Collection
Get Lots Of Royalty-Free Fonts Collection