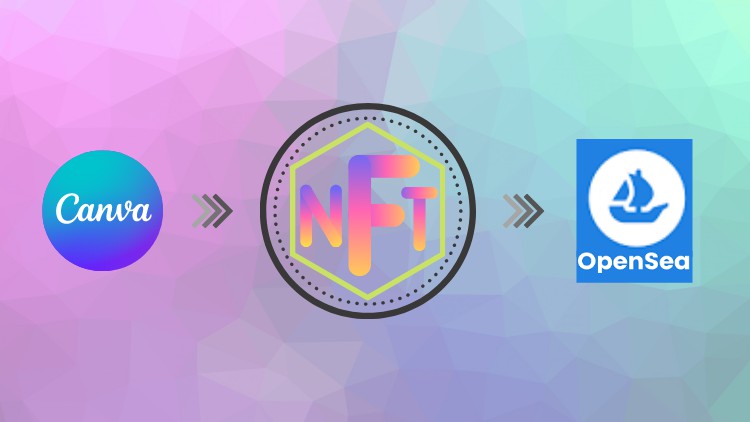 Learn to create, list, mint & sell your arts as NFTs without coding and earn profit.
What you will learn
How to create NFTs using CANVA tool for free and without coding.
How to create a collection on OpenSea that is a gas-free marketplace.
How to List the NFTs effectively on OpenSea
How to sell NFTs on OpenSea with detailed explanation and effect of each input value
Different ways to make pixel art NFTs collection
How to create your cryto wallet
How to perform transactions on testnet
Description
Get the hands-on, working knowledge you need for NFTs and earn a certificate of completion for NFT by an expert. And, get a chance to work with high-end web3 companies on completing the assignment within 10days. Enroll now!!

– Are you looking for a quick and easy way to get started with Non-Fungible Tokens (NFTs), without wasting countless hours sifting through unnecessary filler information?
– Do you want to learn with real examples of NFT creations and then sell them in front of you?
– Are you looking to create your own NFTs and make them available for sale on the top NFT marketplaces?
– Do you need to learn NFT vocabulary and know about "opensea" keywords?
This effective video course will help you understand NFTs, and how to Create, List, Mint and Sell your own NFTs 100% without coding and wasting unnecessary time and money.
I will be demonstrating how to build different kinds of NFTs step by step for free using Canva online tool
Then I will walk you through the complete process of creating an NFT collection on opensea which is a gas-free marketplace
Then I will show you how to mint your created NFTs with real cryptocurrency.
You can have a complete hands-on experience in creating NFTs
…and much much more!
30 days money-back guarantee if you don't like the course !!
English
language
Content
Introduction
Introduction to the course
What is an NFT?
How to create different kinds of NFTs?
How to create a simple NFT collection ?
How to create pixel art NFTs?
Quiz Time!
Crypto wallet and test currency
How to create crypto wallet?
How to add test currency into wallet?
How to sell created NFTs?
How to create an NFT collection on opensea?
How to add NFTs in your opensea collection?
How to list your NFTs for selling?