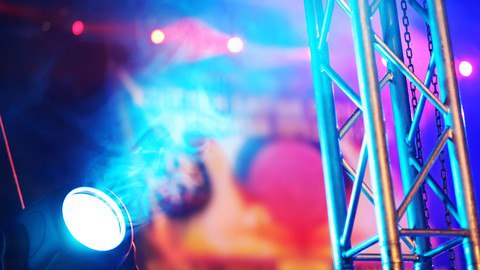 Step by step guidance through cutting edge music technology principles; for the music producer, the musician, the pro.
What you will learn
How to synchronise a variety of musical applications across multiple platforms and devices
A clear understanding of the technology involved
What types of communication are these technologies using?
In depth understanding of MIDI
In depth understanding of MIDI controllers and MIDI mapping
How these protocols travel between apps and multiple computers
How to setup a MIDI network
How to stream audio between apps and between devices
Description
3DAV Part 1: Audio
This class is for anyone who:
Produces music
DJ's
Works in the field of audio engineering
And who wants to learn:
How to network a variety of applications to produce synchronised outcomes in audio
How to network across multiple machines to synchronise those apps
How to create your own templates in TouchOSC to control said applications wired or wirelessly
What audio protocols are and how they operate
MIDI and MIDI Mapping
Audio routing
How each application is interconnected
In this class we start with the very basics of Ableton and applications like RemixLive and Traktor Pro, all the way up to producing synchronised audio across multiple applications. I walk you through every step of the process, and explain my logic behind every decision I make. I'll even walk you through a complete demonstration from beginning to end.
The goal of this class is for you to learn how to create co-ordinated audio for use in the home, venue, club or stage.
DAWs:
In this class I'll be using Ableton Live and I've gone to great lengths to make sure this class is useful to everyone, no matter what your experience.
Setting:
I'm best known for working with electronic music and corporate audio visual events, but I've designed this course to be useful to anyone who has interest in the topics discussed.
Topics Covered:
Ableton Live: A Quick Overview
RemixLive
Traktor Pro
Audio routing from iOS devices: Launchpad & StudioMux
MIDI
MIDI Mapping
The IAC Driver
Bonjour on the Mac OS System
The IAC Driver
The Audio MIDI Setup Tool
Audio Routing: Loopback
And much, much more!
If you are ready to start bringing your audio productions to the next level, this is the class that will start you on that journey. Get started today.
David is a BSc Entertainment Systems and a greatly experienced instructor with over 2,000 students since launching his first course just this year.
Closed captions have been added to all lessons in this course.

———————————————————————
Praise for Courses by David O'Leary:
⇢ "Looks like a lot of though and preparation was put into this course. Very professional." – M. Charles
⇢ "I've been in music production and DJ'ing for nearly 20 years and I haven't seen anyone put together a course like this before. Granted you need some basic skills but thats not a problem for me. Great, great course. Will be implementing real soon" – S. Coonan
⇢ "The course looks amazing! The instructor is really knowledgeable, explains everything very well and the end results as demonstrated in the first lecture are stunning!!" – P. Smith
—————————————————————————-
Who this course is for:
Any and all music makers!
DJ's
VJ's
Audio Visual Technicians
Lighting Technicians
Projection Technicians
English
language
Content
Introduction
Personal Introduction
Introduce Yourself
What is this course going to teach me?
The Apps & Technology
What Does Synchronised Audio Look Like? (Eh, LOOK like??!!)
Ableton Live Intro
MIDI
MIDI
MIDI Controllers and MIDI Mapping
Native Instruments
Traktor Pro
The S8
iOS Applications
Remixlive
LaunchPad
Connectivity
Loopback
StudioMux
Audio Networking
Demonstration & Thanks
Audio Demonstration
Thank You!