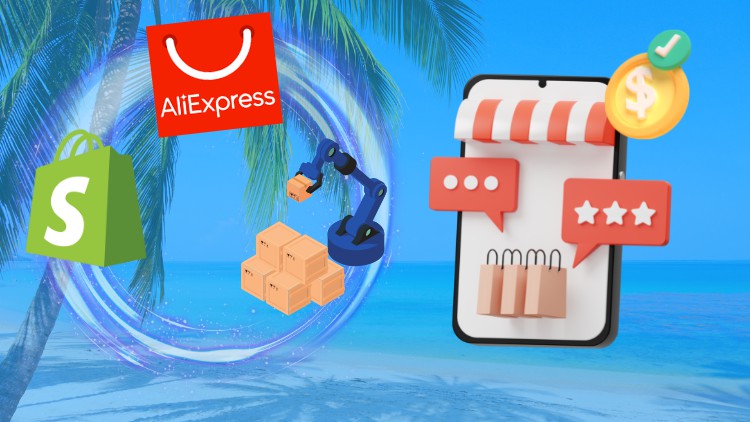 Passive Income 2023- Step by Step to Build an Automated Dropshipping eCommerce Business with Shopify & Aliexpress
What you will learn
Description
Content

What you will learn
Description
Passive Income 2023- Step by Step to Build an Automated Dropshipping eCommerce Business with Shopify & Aliexpress.
In this course, you will learn how to create an Automated eCommerce dropshipping store from scratch using the Shopify content management system and Spocket.
No need to have website development skills or coding skills are required!
This course is perfect for you if you hate coding and want to build the ideal Shopify store and create your brand.
By Enrolling in this course, you will learn:
Learn the neccesary skills to create a PROFITABLE dropshipping eCommerce store in 2023 using Shopify and Spocket (Dropshipping automation app)
Master a skill to supplement your existing income by selling products from Aliexpress, Banggood, or other suppliers in your store
Master Shopify Store creation, and gain a skill that you could use to Freelance on Platforms such as Fiverr, Upwork, and Freelancer.
Learn the perfect formula to pick the correct type of products to dropship
Quickly find qualified suppliers to dropship for you and learn about the Red flags to pay attention to and avoid
You will design a good-looking store that will leave your customers with a great first impression.
Build your brand, and scale your business by selling more products or creating a lot of succesful dropship stores.
I have more than 5 Years of experience as a digital marketer, and I have been doing this for a long time now!
I am a full-time entrepreneur, and I do what I teach daily.
Unlike online gurus who fake screenshots and have never actually sold anything online. Most importantly, I make more than 10K monthly from my online businesses. I also worked in a corporate company not long ago, and I know what most of you feel like.
I have also sold products with my label on Amazon.
Procrastination and fear of the unknown hold people back, but we must strive to develop ourselves every day to reach our highest potential.
Digital marketers on Youtube make it seem so easy, yet they share nothing about what to do to kickstart a succesful online business.
This course does not show business because you will get legit and in-depth information from years of practice.
2023 is the perfect year to start an online business, and it was never easier to create your store and start selling products online.
I am very passionate about what I do, so I go the extra mile to provide learning seekers as much value as possible.
ADD TO CART now and try this course for yourself!
Happy learning
Content
Introduction
Which country should I dropship to?
Demographics and Psychograhics
How to create a Facebook page for your Store!
Criterias to select the best products to Sell!
3 TIPS to find the winning product!
What should I do about the Competition?
Test product quality before you ship it to the customer!
Get ideas about what products to sell using Aliexpress
Get ideas from amazon bestsellers and google trends
Build your Store – Pet Supply eCommerce website creation
Sample website preview
Create your shopify account with 14 Day FREE trial
Install SPOCKET to automate the export from Aliexpress!
Decide about the shop product categories
Create product collections
How to add a FREE theme on the store
Let's create and add a logo to our store
Let's edit the announcement of the store
How to add the navigation menu
Let's add products to dog gear collection
Let's add products to cat gear collection
Let's add products to dog comfort collection
Let's add products to cat comfort collection
How to edit the slides of the store
Let's work on featured collections and CTA
Let's keep editing the store to perfection
How to add a blog posts section
Let's edit the newsletter form
Let's edit the course Footer
Let's add social media icons in the footer
Payment gateways
Let's enable currency conversion on the store
Let's enable the whatssap chat + Abondoned cart email automation
Let's fine tune the store
Let's make the Store PUBLIC! (Unlock the Store)
How to add a domain
Let's test the Store before Launch!
How to find Dropshipping Suppliers
How to automate the process with Spocket
How to find Spocket in the app Store
Dropshipping Automation using Spocket
Connect Spocket to Aliexpress
Search for products using image with spocket
How to find Winning products using Spocket
The Classical way to find Suppliers
How to use directories to find suppliers
Aliexpress and Banggood
Aliexpress dropshipper center Explained!
Product analysis using ds center
How to connect aliexpress with your store
Banggood.com
Bangood europe
Banggood USA
Take your Dropshipping Business to the Next Level!
Impulse Buys
Impulse buy Examples!
Helpful Tips
Tips to scale your Business
Connect google analytics to your store
Product title and description SEO tips
Let's create a facebook page for the store
Let's create a contest to boost page views and likes
Use pinterest to get FREE Traffic to your store 9