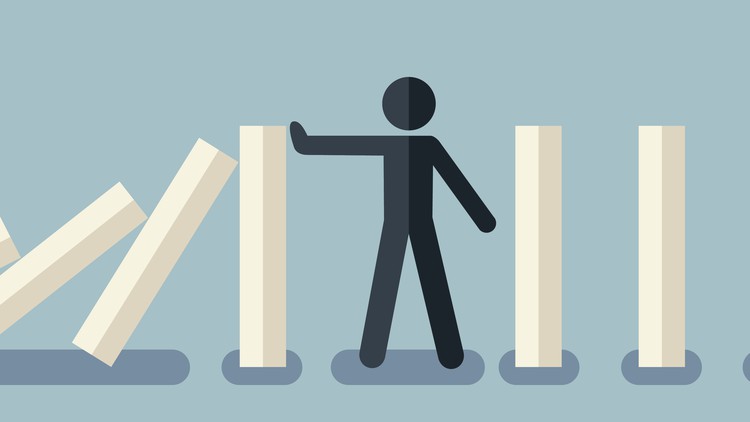 Enterprise Business Continuity Mgmt. as per ISO 22301 – Simple Lectures on Business Continuity Framework & Concepts
What you will learn
Complete coverage of all clauses, terms, concepts in ISO 22301:2019 along with quiz and course assessment
Practical activities and assignments on BCMS objectives, Audit Case Study etc.
Why is business continuity management system necessary for businesses.
Implementation of Operation controls as per ISO 22301.
Importance of Response Structure.
Fundamental concepts and terminologies in ISO 22301:2019.
ISO 22301:2019 compatibility with other International standards.
Description
Business continuity was always important for businesses for small-scale disruptions as well. With the advent of CoVID-19, its importance was felt in a way never before. Now businesses are considering incorporating a business continuity management system or at least having a plan for that, ISO 22301 is an internationally recognized standard for the business continuity management system (BCMS). International Organization for Standardization (ISO) revised the older publication of the standard in October 2019. The transition period of 3 years is about to complete. Companies conforming to the older edition have to either upgrade or work on the newer version of ISO 22301. The older version ISO 22301:2012 will be no longer valid after 2022. Companies have to upgrade the business continuity management system (BCMS) to the latest standard. They need proficient people who understand the new standard well, so this course will help you to become one to help companies implement the standard denoted as ISO 22301:2019.
Value Addition Alert: Hand-written English captions have been added to help our students globally from any country. As the pronunciation is different everywhere and we do understand that.  We hope you will use that.
What you will learn when you take this online course (Course Objectives):
The publication of the new ISO 22301:2019 standard
The need for a business continuity management system
PDCA Approach
Context of organization in the perspective of BCMS
Leadership role in BCMS
Planning including Management of Risk and Opportunities related to business continuity
Support Functions needed for BCMS
BCMS Operation Controls
Business Impact Analysis (BIA)
Risk Assessment (RA)
Business Continuity Strategies and Solutions
Business Continuity Plans and Procedures
Warning & Communication
Exercise Programs
Performance Evaluation
Improvement
This course also provides coverage on all clauses of the ISO 22301:2019 standard.
No need to pay thousands of dollars for a one-day awareness course on the latest standard. This course will suffice your requirement.
Assignments as Activities:
– Activity on BCMS Objectives
– Activity on Audit Case Study
– Quiz on Terminologies
You will learn about this new standard with ease with the help of video lessons having info-graphics, quizzes, and activities.
Include the Questions From Famous Udemy Practice Exam on Lead Auditor Preparation on ISO 22301:2019: The amazing news is that this course includes the questions from famous practice exams available at the Udemy platform, titled "ISO 22301:2019 – Business Continuity Management System". The exam is itself available at $40 at Udemy and you can it for free by joining this course.  At the end of the assessment, you will be provided with a result sheet that includes correct answers as well and the reason or explanation for the answer. You can improve your learning by assessing your answers against the explanation provided.
NOTICE: Please note that this ISO 22301:2019 standard is copyright protected. A standard copy will NOT be issued with this course.
Amazing Offer – Resource Materials: There are free resources that are exclusively written on different sections of the courses and are also addressing the requirements of the ISO 22301:2019 standard. These unique resources are available in the last lecture of the section.
Certificate Issuance Alert from Exoexcellence: Many students have complained that they do not want the new Udemy Certificate (template issued last year). Rather, they wanted the older one. We have communicated their concern to Udemy's management. But please note that is their standard and they are not going to change that for now. So in order to satisfy the need of our students, we have a designed certificate (which is being issued from Exoexcellence Training Resources) which seems satisfactory to our students; raising the concerns. Therefore, now we have a system within the course where you can request a certificate from us after completing the course.
Free Implementation Tools: Two implementation tools are also given free in this course.
One sample generic document: "ISO 22301:2019 Requirements Guide/Checklist
Gap Analysis Tool: Comparison matrix for transitioning to ISO 22301:2019 from ISO 22301:2012
One Month Money Back Guarantee: Don't forget, this Course has without inquiry, One Month 100% Money Back Guarantee. This means you have unconditionally no risk when registering for this Course.
Ask Questions & Report Complaints: A discussion forum on the right side of this course can be used to discuss specific queries and report problems you are facing about the content of the course.
Take this course: Follow the "Take This Course" Button by clicking at the Top Right Hand Side of the Page. Proceed with the instructions and follow them to register and pay for the course.
English
language
Content
Introduction to Business Continuity & ISO 22301
Introduction to Business Continuity Management System
What is ISO 22301 & Why Business Continuity in the First Place?
The COVID 19, Business Continuity & ISO 22301
Components & Benefits of BCMS
PDCA Cycle for BCMS
Session Quiz
Terms & Definitions in ISO 22301:2019
Terms & Definitions in ISO 22301:2019. Part 1
Terms & Definitions in ISO 22301:2019. Part 2
Terms & Definitions in ISO 22301:2019. Part 3
Terms & Definitions in ISO 22301:2019. Part 4
Terms & Definitions in ISO 22301:2019. Part 5
Terms & Definitions in ISO 22301:2019. Part 6
Organization's Context, Planning & Support Functions
Analyzing Organization's Context for BCMS (Clause – 4.1)
Business Continuity Scope & General Requirements in Clause – 4
Leadership Commitment (Clause – 5)
Establishing & Communicating Business Continuity Policy (Clause – 5.2)
Defining Roles, Responsibilities & Authorities (Clause – 5.2.3)
Planning – Risk, Opportunities, Objectives & Changes (Clause – 6)
Support Functions – Resources, Competence & Awareness (Clause – 7)
Support Functions – Communication & Documented Information (Clauses – 7.4 & 7.5)
Section Quiz
Operation Controls for Business Continuity
Introduction to Operations (Clause – 8)
Business Impact Analysis (Clause – 8.2) & Risk Assessment (Clause – 8.3)
Business Continuity Strategies & Solutions (Clause – 8.3)
Business Continuity Plans & Procedures (Clause – 8.4)
Warning & Communication (Clause – 8.4.3)
Business Continuity Plans (Clause – 8.4.4)
Recovery (Clause – 8.4.5), Exercise (Clause – 8.5) & Evaluation (Clause – 8.6)
Section Quiz
Performance Evaluation & Improvement
Performance Evaluation (Clause – 9) & Internal Audits (Clause – 9.2)
Management Review (Clause – 9.3)
Improvement (Clause – 10)
Self Assessment
ISO 22301:2019 Practice Test