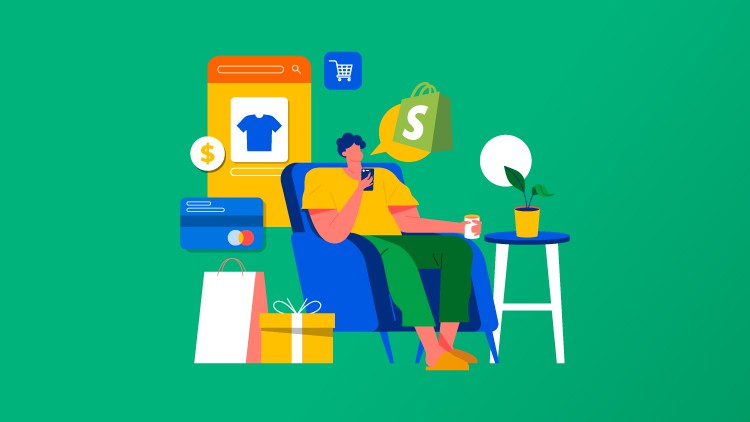 Mastering Shopify from Scratch: How to set up a Shopify store within just over an hour
What you will learn
How to create your Shopify store: providing detailed explanations from preparation steps to setting up a successful store.
How to add products and collections
How to set up essential store pages such as a contact page, about us, policy page, and FAQs
How to set up a navigation menu
How to set up payments, shipping, and taxes
How to add domain
How to add apps and sales channels on your Shopify store
Description
This free course, "How to set up a Shopify store within just over an hour," is designed to provide a comprehensive guide for individuals and businesses looking to start an online store. Whether you're an aspiring entrepreneur or an experienced business owner looking to expand your reach, this online course is designed to help you unlock the potential of the eCommerce world with Shopify.
In today's fast-paced digital landscape, establishing an online presence is more critical than ever. With our step-by-step instructions and expert guidance, you'll be able to create a fully functional, eye-catching, and profitable Shopify store in just over an hour. This course will walk you through everything you need to know including
Creating a Shopify account
Adding products and collections
Customizing store pages
Setting up a navigation menu
Choosing a theme
Setting up payments, shipping, and taxes
Adding a domain
Preparing for launch
Launching store
The course is easy to follow and understand, with step-by-step instructions and practical tips for success. By the end of the course, you will have a fully functional Shopify store that is ready to go live. Whether you're new to eCommerce or an experienced online seller, this course is the perfect starting point for your online business journey. Don't let the fear of the unknown hold you back any longer. Enroll in "How to Start a Shopify Store in Just Over an Hour" today and take the first step towards your eCommerce success story!
English
language
Content
How to Start a Shopify Store in Just Over an Hour
Introduction to the course
Before start
Create Shopify account
Add products
Add collections
Add products to collections
Set up store pages
Set up navigation menu
Tips for choosing themes
Choose themes
Personalize homepage
Set up payment
Set up shipping
Set up taxes
Add domain
Add sales channels
Test store
Choose plan
Launch store
In Conclusion