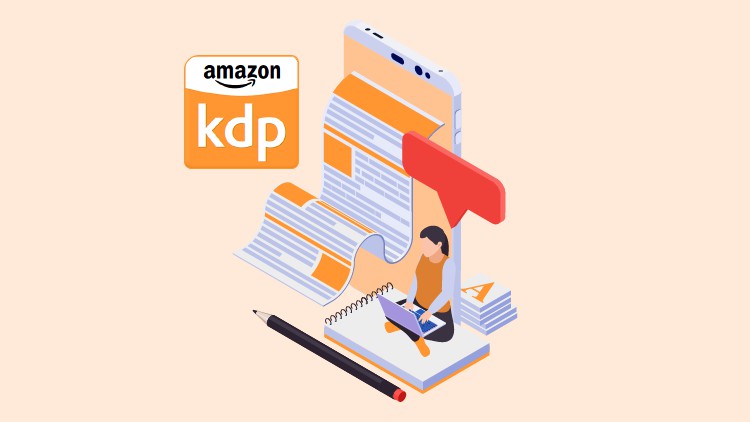 Create passive income and earn through publishing low content books on Amazon KDP in 2022 with no budget
What you will learn
Description
Content

What you will learn
Description
2022 is the Ideal year to launch your online business and earn money online. Many people lost their jobs during the pandemic, so now is the ideal time to create a business online and learn how to generate sales by publishing simple low or high-content books on Amazon KDP!
After testing countless methods of making money online, nothing ever impressed me; affiliate marketing, list building, email marketing, etc. – until I began creating low-cost books that sold like crazy on Amazon. And the significant aspect was, I didn't even invest that much money…
I created my first paperback book back in January 2021, and that book has earned over $1600 of pure profit to date. I have many more additional books on the Amazon marketplace, driving my daily sales. And what's even more profitable is that I haven't worked on this business for the past 2 MONTHS, yet sales continue to flow.
So, What are you waiting for? There is nothing to lose and everything to miss out on!
If I could make a profit this way, why shouldn't you?
Inside this course, you will learn all the basics you need through what I have accomplished over the years, everything I've tried to scale selling books on Amazon kdp. By following this method to publish LOW CONTENT books on kdp, you'll be able to see a regular income every single month.
My course is unique that you won't have to speculate where to start. I have removed the guesswork for you. You'll get a chance to learn everything. I've got you covered, from creating a publishing account to scaling your books after they are live on the Amazon store.
You can start with a zero-dollar budget?. I started with ZERO $, and I will share how you can do it identically in the lesson. If you have around $10, you can get started even quicker. If you have $50, you can see many sales on this Amazon business quickly.
How much time does it take to see some sales? Once you have books published on the Amazon store, they will start to earn you royalties for years to come. The number of books and how much you make from this rely on your time and effort. Expect to start noticing sales after a few weeks, however.
Do I need to be a great designer and writer? None, in case you don't want to. I will show you how to create your entire business without writing a single piece of text in the course.
I promise not to waste time with tactics that won't make you money inside the course—Facebook ads, blogs, websites, weird traffic sources, or spending money for reviews. I will show you that you can make money publishing low-content paperback books without investing capital in marketing.
Will I only be selling low-content books? And what are low-content books anyway? Low content books are books with no content, such as notebooks, journals, logbooks, etc. These are super easy to make and can increase your income agreeably.
Content
Amazon book marketing course introduction
Introduction
Who is this course for ?
Who is this course not for ?
Reasons why you should enroll to this course!
Getting started
How does it work ? and how to earn money from KDP ?
What you will need for the course!
The Amazon KDP platform walkthrough
How much money to expect
How much money to expect
The compound effect
Advantages of uploading low content books on kdp
Categories of low content books
Categories of low content books
Create and publish your first low content book on KDP
Bookbolt software introduction
Design the paperback book cover
Scale book covers using book bolt and photoshop
Photoshop tutorial to scale book covers
Competition research and product benchmark
Product research
Keyword research
Spy on your competition's best sellers
Choose the book category and scale your listings
KDP category finder
Use bookbolt lister to scale your listings
How to manually submit a low content book on Amazon KDP
Manually submit your first low content book
KDPA an automation software to scale book listing
Introduction to KDPA a software to scale your publishing business
How to automate book publishing on amazon KDP
Scale book publishing using KDPA automation
Let's upload 10 low content books in parallel using KDPA
Uploading 10 kdp books at the same time