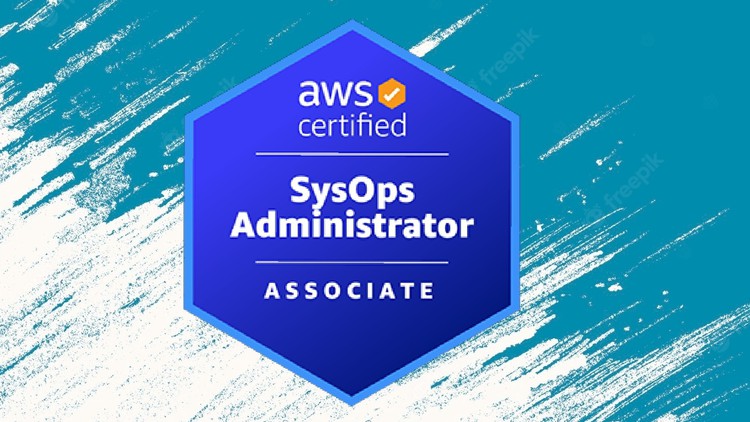 Four Full AWS Certified SysOps Administrator Practice exams | Newest questions
What you will learn
Prepare the AWS Certified SysOps Administrator Associate
Test your knowledge in AWS Certified SysOps Administrator Associate
Learn how to pass real tests of AWS Certified SysOps Administrator Associate
Be ready for the final exam
Description
*UPDATED Tests*
This exam helps organizations identify their staff members and equip them with essential knowledge to the establishment of cloud initiatives. Earn the AWS Certified SysOps Administrator – Associate certification demonstrate experience deploying, managing, and operating workloads on AWS.
Practice Tests
The practice exams completely prepare you for what it is like to take in AWS Certified SysOps Administrator Practice Certification Exam . These questions are collected
Written and answered by multiple Aws SysOps Experts
Exam Questions similar to actual Certification Exam
Following the knowledge areas as required by the exam
There are four practice exams included and They have been designed carefully by maintaining the exam structure , syllabus, topic weights , cut score and time duration same as actual certification exam.
These practice tests are designed by our experts to simulate the real exam format. Here, you will get unlimited access to 4 practice tests with 5! unique questions in each with explinations.
All the exams will be updated and added in order to provide you with the most up-to-date content.
Lessons and Topics
The AWS Certified SysOps Administrator exam measures a candidate's knowledge and skills related to the following objectives. This Practice exams will cover the features/functions below.
Domain 1: Monitoring, Logging, and Remediation 20%
Domain 2: Reliability and Business Continuity 16%
Domain 3: Deployment, Provisioning, and Automation 18%
Domain 4: Security and Compliance 16%
Domain 5: Networking and Content Delivery 18%
Domain 6: Cost and Performance Optimization 12% TOTAL 100%
About the Exam
Read on for details about the AWS Certified SysOps Administrator exam.
Content: 65 multiple-choice
Time allotted to complete the exam: 180 minutes
Passing score: 70%
Exam Price: 150 (USD)
Who this course is for:
The exam also validates a candidate's ability to complete the following tasks:
Support and maintain AWS workloads according to the AWS Well-Architected Framework
Perform operations by using the AWS Management Console and the AWS CLI
Implement security controls to meet compliance requirements
Monitor, log, and troubleshoot systems
Apply networking concepts (for example, DNS, TCP/IP, firewalls)
Implement architectural requirements (for example, high availability, performance, capacity)
Perform business continuity and disaster recovery procedures
Identify, classify, and remediate incidents
English
language