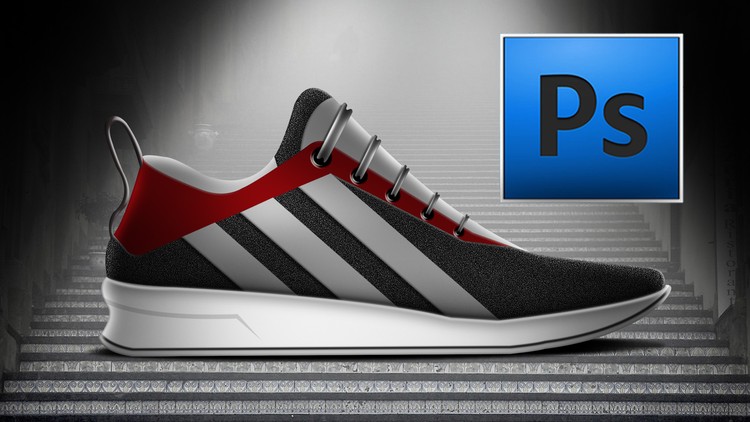 Photoshop techniques to create beautiful digital design of shoe design / Sneaker design step by step
What you will learn
Description
Content

What you will learn
Description
                                          ******* Photoshop cc course 2022 ( Shoe / Sneaker design from sketch ) *******
In this course, you will learn how to design shoes / Sneaker from sketch start to finish, And at the end of this course you will be able to design shoes / Sneakers design and techniques of creation of shadows and highlights to create realistic effects then you can apply these techniques to any design or concept to make professional and realistic.
To – The – point course without any confusion
Layer by Layer
Requirements:
Software: Photoshop cc version 2020 or 2019 or 2018 or 2017 or 2014 or 2015 or any previous version like cs5 or cs6 etc…
PC or Laptop
Your precious time!
That's it!!!
Who can join that course?
Anybody can join this course
Students
3D software workers
Freelancers
Graphic artist
Businessman
Part-time job workers
Skills learners
Passionate about learning and growing skills
Engineers
Student Reviews:
*** Catherine R ***
" Thank you for this amazing course, I am a beginner but I learned very easily with these skill-filled courses. They were advanced and easy and the step-by-step techniques were great. Very easy to understand, and I totally loved all tutorials. Everything was clear and easy to follow and was well organized. Great course and an awesome instructor. Highly recommended."
*** Mobeen Qureshi ***
"I enjoyed this a lot. I'm currently trying to expand on my UI / UX Design skills and further learn sneaker design & 3D modeling. Other tips and resource recommendations would be very helpful."
Let's start learning today and increase your knowledge and skills in a professional way.
Content
Step by step learning
Preview
REDRAW SHAPE INTO PATH
COLOR FILLING INTO SHOE
SHADOW EFFECTS
WORKING WITH SHADOW EFFECTS-1
WORKING WITH SHADOW EFFECTS-2
LACE HOLES CREATION
LACE CREATION
FINISHING TOUCH TO IMAGE