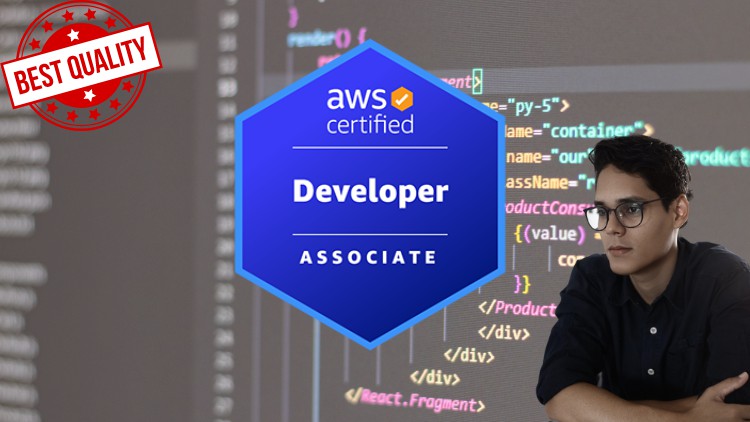 You can pass the AWS Certified Developer Associate exam by studying a course that is close the actual exam.
What you will learn
Description

What you will learn
Description
■Report.
The AWS Certified Developer – Associate exam will change on February 28, 2023. The last day to take the current exam is February 27, 2023.
■What is AWS Certified Developer Associate?
It is one of three Associate exams, the next level after the basic level Cloud Practitioner (CLF).
The AWS Certified Developer – Associate demonstrates knowledge and understanding of AWS core services, use, and best practices of basic AWS architecture, and proficiency in developing, deploying, and debugging cloud-based applications using AWS.
〜Test Summary〜
Number of questions: 65
Time limit: 130 minutes
Passing line: 70% correct
〜The exam will cover the following areas〜
Deployment
Security
Development with AWS services
Refactoring
Monitoring and troubleshooting
AWS services used for development, deployment, serverless, and operational monitoring include code services, ElasticBeanstalk, CloudFormation, AWS SAM, KMS, IAM, API GateWay, DynamoDB, Lambda, and CloudWatch. services used in development, deployment, serverless, and operations monitoring.
■About this course
〜What makes this course different from others〜
The course reflects the latest questions, so you will be closer to passing the test if you study this course.
You will increase your level of knowledge because it not only mentions the reasons for correct answers, but also the reasons for incorrect answers.
The course is written by an instructor who has actually passed the AWS Certified Developer – Associate, so the explanations are easy to understand.